January 16, 2012
New kids books to start the year right
This Christmas was exceptional for the calibre of picture books that we were given as gifts– so many new discoveries, books exactly in line with the kind of stuff we like, books we'd long been waiting for, though we hadn't even known it. It was quite a novelty, because as bookish people, we're used to making our own literary discoveries, used to friends buying us something other than books because they assume we've read them all already. But not so! What follows is an absolute trove of delights.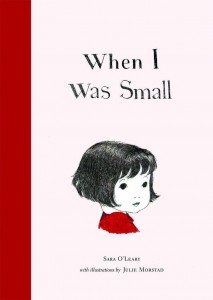 When I Was Small by Sara O'Leary/Julie Morstad: I've been buying Sara O'Leary's Henry books for little people since long before I had a little person of my own. This latest installment is as lovely as the rest, as Henry asks his mother to tell him stories of that long-ago never-never time before he was born, back when she was small. In the pattern of the previous books, she tells him about the small girl she once was, back when she wore the same shoes as her doll, when she had a ladybug for a pet, slept in a mitten, and bathed in a bird bath. And then she shares with Henry a dream she had that connects her past to his present.
There Were Monkeys in My Kitchen by Sheree Fitch/Sidney Smith: We love Sheree Fitch, and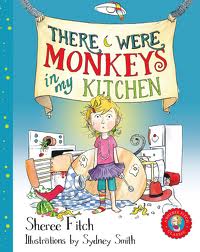 Nimbus Press' re-issue of her books by (with new illustrations by Sidney Smith) is cause for celebration. In this rollicking rhyme, Willa Wellougby discovers that her house has been overtaken by a variety of simian creatures, including go-go apes and square dancing monkeys. The monkeys are agents of chaos, and poor Willa has to contend with them alone, because she's been calling the police and the RCMP and getting no response. And when the Mounties finally arrive, it might just be too late.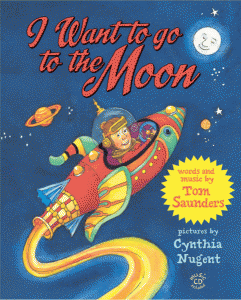 I Want to Go to the Moon by Tom Saunders: A picture book biography of Neil Armstrong, in verse! Tom Saunders' story began as a song, and it's recorded on the CD included with the book. The illustrations are vivid and engaging, the bouncing verse outlining Young's story and underlining a message that impossible dreams can be realized. Only problem is that the verse stays in your head, and in our family we've taken to hurling, "You'll never go to the moon, Neil," as a cryptic insult.
The High Street by Alice Melvin: The Tate publishes books– who knew? And it's no surprise that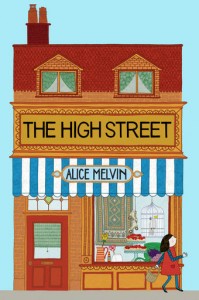 they're gorgeously designed and illustrated. This was one of two books that Harriet received for Christmas intended to nurture her inner consumer. In this story, a small girl goes shopping with a rhyming list of things to get, and knocks items off one-by-one. But the best part is wall of the shops cut away so that we get to see inside, and also what's going on in the space above the shop. A must-have for the English fetishists among us.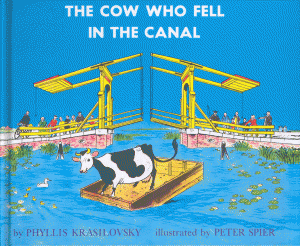 The Cow Who Fell in the Canal by Phyllis Krasilovsky: Harriet's grandmother picked this one up on a recent trip to Holland, and we adored it, as we like vintage picture books in general, and the illustrations are reminiscent of Marjorie Flack's. This story of a cow who (surprise!) falls into a canal is simple and funny, and its illustrations offer marvelous glimpses of Dutch landscapes.
The Country Bunny and the Little Gold Shoes by Dubose Heyward/Marjorie Flack: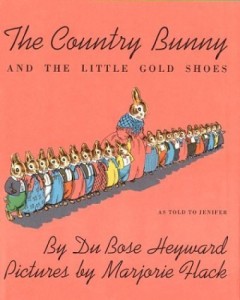 Speaking of Marjorie Flack, here she is, illustrating this ahead-of-its-time feminist tale. Basically, this is Dee Dee Myers' Why Women Should Rule the World compressed into storybook bunny form. A single mother bunny is chosen to become the new Easter bunny because the skills she has acquired managing her brood and her household are applicable to the competitive world of egg distribution. Apparently, we can do it all!
Who Will Comfort Toffle? by Tove Jansson: Our first Tove Jansson picture book was The Book of Moomin, Mimble and Little My, much beloved. And we like this one even better, the story of lonely Toffle who's content to haul his suitcase about and remain the fringes of society. Then he discovers a Miffle who's in need of comfort as much as he is, so he makes it his mission to track the Miffle down and discover the pleasures (and comforts) of friendship with her. The last page is unbelievably lovely, and I only wish I'd known of it during that period about five years ago when everyone kept asking me to do readings at their weddings.
On Market Street by Arnold Lobel and Anita Lobel. Our second shopping book, written by Arnold
Lobel (!) and illlustrated by his wife Anita. And it's an ABC book, and B is for books, so basically this book is perfect, and when T is for toys, we discover a Frog and Toad allusion in the picture. I can't believe I'd never heard of this one, which won the Caldecott Medal in 1982.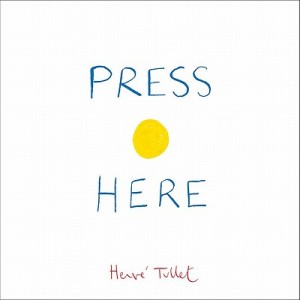 Press Here by Herve Tullet: A book like none I've ever seen, but maybe a bit like the iPad. But better. Because it requires imagination to make it go, not to mention fingers for pressing, arms for shaking, breath for blowing the dots away. A truly engaging book with great design, and a lot of fun to "read".