January 15, 2012
Heron River by Hugh Cook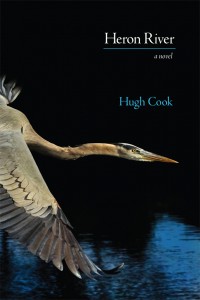 It might have been the bird in the title, or the character called Madeline, but I think it was the atmosphere of Hugh Cook's novel Heron River that had me in mind of Ann Marie MacDonald's The Way the Crow Flies. Small town Ontario in the sweltering heat of summer, bucolic idyll with something sinister afoot. I could hear the clink of the ice cubes in the lemonade glass, feel the air-conditioner's relief. The community of Caithness was created for me in remarkable detail, the main-street with Tony's Barber Shop, the abandoned mill, the river that cuts the town in two. But people are still uneasy after an unsolved murder not long ago, and fears are heightened after a series of break-and-enters.
The book is set in 1995, nearly here-and-now, but its prologue reaches back to two decades before: a small boy falls into an old abandoned well, and in a deftly-plotted flurry of reading, we're shown the boy's dramatic rescue by volunteer-firefighters. We're also shown that trauma never really goes away, and that what happened that morning will forever bear on those involved. In particular on the boy himself, who eventually recovers but with substantial brain damage.
The boy is Adam, and when we meet him in the present, he's 26 years old and lives in a group home. His parents' marriage has fallen apart, so his father is long gone now. His mother Madeline lives alone in his grandfather's house, now that his grandfather has been moved to a long-term care facility. Madeline feels guilty that she's unable to care for her father, or for her son either, as she is suffering herself from the debilitating symptoms of multiple sclerosis. Though more than anything else, what she really regrets is those moments of inattention years ago during which her son had his accident and their lives were changed forever.
Hugh Cook's Adam is a remarkable creation, his point of view fascinating to consider in its limitations and scope at once. Rare is it that we see a character with mental disabilities who is evoked in such depth, so devoid of cliche. We see his struggle to comprehend the world around him, to maintain his dignity even while aware of his vulnerability– the way he never says, "I don't know" in response to a question, but will say, "I can't remember" instead.
The other characters have been created with similar sympathy, and most are invested with a fundamental goodness. Madeline herself as she struggles to rise above the difficulties that have befallen her, the paperboy who she hires to mow her lawn (and who has taken to prowling in his customers' houses when he knows they're out of town), Adam's carers at the Group Home who treat their charges with respect, the Native man who's cutting trees down by the river and tells Adam the story of the creation myth. And then there's Tara, the police officer, who's exhausted from her night-shifts but loves her job, even though she knows it comes at the expense of time spent with her children. And even though she knows that the sordid world she sees in her work is skewing her impression of humanity.
We get a glimpse into this sordid world from Tara's point of view, and also through that of a character called Orrin who recounts an upbringing of abuse and neglect, and who matter-of-factly admits to a horrible act of violence. While the other characters in the book are connected in various ways, Orrin exists outside of that web, and it becomes clear that his entrance into the heart of the story is going to have devastating consequences.
Though I enjoyed this book very much, certain elements took me out of the story from time-to-time. The startling depth that renders this literary world so realized gives me the impression that this book was once a much longer one, and that paring it down caused certain gaps to emerge– where were Adam's brother and father, whose absences were hardly remarked upon? I found it curious too that in a book with so many absent fathers that mothers were forced to bear the brunt of so much responsibility– there were even imaginary mothers who were to blame. I was also concerned as I read this book that I was unwittingly reading a novel whose religious overtones were all too overt, and there was nearly a point where it crossed the line, but in the end, Cook keeps his resolution subtle enough to be interesting.
Cook's previous 3 books have won awards and acclaim, he's a graduate of the University of Iowa Writers' Workshop, and his story-telling chops are very much on display on this beautifully evocative novel. It was a pleasure to be delivered to summer from the cold of mid-January, and to get lost in Heron River's pages.