January 12, 2012
Nursery Rhyme Comics: 50 Timeless Rhymes from 50 Great Cartoonists by Chris Duffy (ed)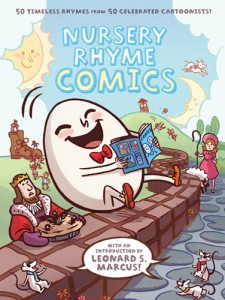 For me, motherhood has been a portal to the wonderful world of comics, and I've been making more frequent visits ever since Little Island Comics opened up around the corner from my house. As a child, I never got past Archie, which is not to say I was not a devoted fan, but Archie is hardly the cream of the comics crop. In the company of Harriet, however, I've been working my way through Tintin's adventure The Red Sea Sharks, which is wonderful, and Harriet loves it too, though I'm pretty sure she understands about none of it. She also has a Silly Lilly book that I quite enjoy, and we enjoy the Moomin storybooks so much that we're going to have get started on reading the comic strip collections.
I also think that it's rude to hang out in bookstores and not buy anything, so when we were all there a couple of weekends back, we picked out Nursery Rhyme Comics, which was edited by Chris Duffy. Now, you mightn't have thought that our household needed a fifth Mother Goose Collection, but we did! We did. If you scroll down to the photo of Harriet reading in bed, you'll see that this book is what she's been lost to, and her parents like it just as much. It includes some rhymes we didn't know before, all the favourites we knew already, and each one reborn in the style of a notable contemporary cartoonist. (I am not very cool. The only one I've heard of is Kate Beaton, but I know that she is very cool.)
The old woman who lives in the shoe has a rock and roll band, Jack Be Nimble is petulant and ashamed with a hole in his pants, the King of Hearts is a terrible, terrible tyrant who gets what's coming to him, Little Boy Blue's sleeping is cause for a party, the hickory dickory dock mouse is actually a bell ringer. The cartoonists' styles are remarkably contrasting, each one interesting and vivid in its own way, rendering simple nursery rhymes into stories, and this book a remarkably rich collection.