January 8, 2012
Man and Other Natural Disasters by Nerys Parry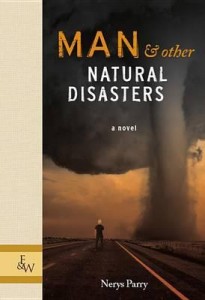 Update: On Feb. 1 2012, Great Plains Publications became a Featured Advertiser at Pickle Me This. This review was published prior to our relationship. Pickle Me This does not publish sponsored posts, and all opinions expressed on the site are my own. 
"I'm reading a really wonderful book," is something I kept telling people last week as I was reading Nerys Parry's first novel Man and Other Natural Disasters. Then of course I'd be asked what it was about, and every time I came up short with an answer, never did manage to do the novel justice. Because it's hard to explain, this book, though it might help if you imagine a diagram. At its centre is Simon Peters, who works in the basement of the Calgary Public Library in Book Repair and Maintenance. He's a loner, repairing broken books with precision, unable to navigate the ins and outs of society, so suited to the solitude of the job.
Now imagine a series of points around the Simon-centre, each one an idea with an arrow directed at Simon himself. From these various ideas, Parry reveals Simon to us, in all his multifacetedness and impenetrability. The first is Simon's homelife, lived in an apartment with denim curtains in the kitchen and lined with hundreds of hoarded books. Simon lives with Claude, who we're told at the outset is in decline and will eventually die of a stroke. It's not clear what the relationship is between the two men, except that Claude once gave Simon shelter when he was homeless, that he gave Simon work in construction building skyscrapers high over Calgary, and that the two have been companions for over thirty years.
The second point is Simon's past, which he begins to reveal when he meets a new colleague at work, a young woman called Minerva who bears an uncanny resemblance to Simon's sister who was lost years ago. The sister had been killed in a fire, the first of three tragedies in which Simon's family would be devoured by the elements– his father was later killed in a mine collapse, and his mother disappeared by air not long afterwards when a tornado touched down on their prairie ranch. So of course, Simon tells Minerva and us also, he now knows how he himself will die, and we also understand the trauma that caused his unusual shock of white hair.
But here's the third point: the centre cannot hold. With the resurfacing of his tragic memories coupled with the loss of Claude, cracks begin to show in Simon's vaneer. Is there a sinister element to his relationship with the older man? What about the violence he hints at in his childhood? What is his attraction to Minerva,. and why does the memory of his sister have such a powerful hold upon him? Could the stories he tells really be true? Is Simon actually dangerous?
Point four: a breakdown occurs when Simon discovers Minerva drenched in blood on his bathroom floor, and an alternate history is revealed through psychiatric records and Simon recounting sessions with his therapists.
And the fifth point is the story of the Doukhobor people in Western Canada, a religious sect whose children were interned and abused in residential schools during the 1950s. This atrocity was thought to be an answer to and (by the Doukhobors themselves) regarded as justification for acts of terrorism by an extremist Doukhobor group against government measures for assimilation. How exactly this story connects to Simon is best revealed by the novel itself, but the connection promises to add a layer of depth to a story that is interesting already.
The first half of the novel is an assemblage of mismatched pieces narrated by a man who seems autistic, which results in strange and stilted pacing. In places, the dialogue is weak, which only stands out because the prose in general is so remarkably good. (Though that a conversation with a man like Simon involves weak dialogue is not altogether surprising, but still, there is too much telling [us] going on here). Nerys Parry's writing is gorgeous thoughout, passages that beg to be read over and over for the gloriousness of their descriptions, as when Simon puts forth the circumstances of his birth:
After nine months of immersion in the temperate, nutrient-rich fluid of the womb, the first breath an infant takes burns its virgin throat like acid. Then there is the lashing of light, the spanking of cold. To recreate the experience, drink a glass of double strength cidar vinegar through your nose, dive in a bath of ice and stare directly at a hundred-watt light-bulb without blinking. You can see why not too many come into this world smiling.
Following Simon's breakdown, the pace picks up and the rest of the novel proceeds in a flurry of action. And it's perhaps this disjointedness that makes the novel so hard to explain, which is not a flaw so much as the result of Parry fitting so many pieces together, of taking on the challenge of documenting psychological trauma, and attempting a novel whose shape is all its own. The effect is curiously imperfect, but impressive. Parry is a richly talented writer, and her first novel is an absorbing, rewarding read.