January 3, 2012
A Trick of the Light by Louise Penny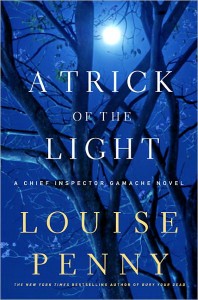 Coming to detective fiction via Kate Atkinson's Jackson Brodie is a bit like being the kind of person who only goes to church on Christmas Eve. And sure, I've tried to make up for it since– I've since gotten into PD James and Dorothy Sayers, but I'll never feel like I've got quite enough cred. I'm not a real detective fiction fan anyway– I seem to like the stories in spite of the detection, and though I know this is an unpopular point of view, I'll tell you that if Atkinson forgot to put Jackson Brodie in her next novel, I'm not sure I'd notice. What I like about murder mysteries is that they bring to the forefront what I like best about novels in general: atmosphere, surprising relationships, back story and plot.
And yes, I like my novels English, and the mysteries in particular. For me, Midsomer Murders is less about the murders than whatever is happening on the village green (which, as it happens, is usually murder, so it all comes out in the wash). And somehow in A Trick of the Light, the seventh book in her Armand Gamache series, Louise Penny has managed to thoroughly infuse a village in Quebec's Eastern Townships with the English essence I so love in my fiction.
The village is Three Pines, so isolated it does not appear on any maps, but also a hotbed for murder. In this latest installment, a body has been discovered in the garden of Clara Morrow, an artist who has just launched her first solo show at the Musee in Montreal. The dead woman turns out to be a ghost from Clara's past whose connections to the people in her present are numerous and surprising. Chief Inspector Gamache must untangle the web of intrigue, all the while dealing with his own trauma from a recent incident in which he was seriously wounded and officers working under him were killed.
For two days last week, I was more devoted to this book that anything else in the universe. It was the perfect book to curl up in against the winter darkness, I found Gamache and his second-in-command so compelling as characters, the vicious and incestuous art world served as a sparkling backdrop, and Three Pines was a perfect idyll, even with all the murder going on. Though yes, this books really wants for an edit. Penny writes in short stilted non-sentences that make for breezy reading but don't completely make sense when you look at them closely. And there were too many slips– how did Clara notice the expression on her husband's face when he was walking a few paces ahead of her, and the misused "begging the question" twice in five pages was a bit agonizing. The essential bit of Englishness that we're really missing here is the genre writer with serious command of the language.
But I'm happy to forgive the book for all its flaws, because it made my holiday, and I look forward to acquainting myself with more Gamache in the future.