December 31, 2011
Fewer sweets not going so well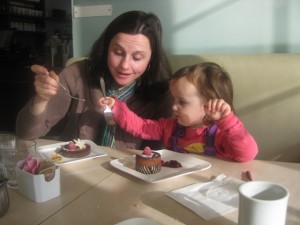 Next year, I was going to eat fewer sweets, but then I received a Kitchen-Aid Professional Stand-Mixer for Christmas, so it really doesn't look like it's going to happen. I am consoling myself, however, with the realization that I've achieved both my 2011 goals, which were to read Great Expectations and finish a draft of my novel manuscript. I have read 132 books this year, and have also been successful at reading through my to-be-read shelf (and putting them in alphabetical order has made all the difference in the world, by the way) and I'm on the Ps. I vow to never let such a pile-up occur ever again. In 2012, I am going to finally finish reading John Cheever's collected short stories, and write a brilliant second draft of my novel. I am also going to restrict myself to blogging 3 days a week in order to make time for other kinds of writing.
This time last year, I had just finished up a fulfilling creative year, but had no idea but 2011 would have in store. And to think that it would include a National Magazine Award nomination and publication in a book would have been nearly too much to wish for, and so I am pretty grateful for those opportunities, as well as writing gigs with some great publications, and my work at Canadian Bookshelf and Uof T. In addition to my novel, I'm at work on a couple of other interesting projects, and would also like to publish some short fiction this year, though perhaps it's too much to wish the cup be eternally runneth over.
Speaking of cups runneth over (or at least bowls), we'd been planning on a chocolate fondue to bring in the new year tonight, but then our neighbour who's departing on vacation brought over the contents of her fridge, and now it looks like we're going to have to make a clafoutis as well. So I really mean it when I say that we're doing poorly on the fewer sweets thing, but if that's my biggest problem, we're really doing all right.
Happy New Year and all the best for 2012.