December 19, 2011
I read The Spoiler and Osprey Island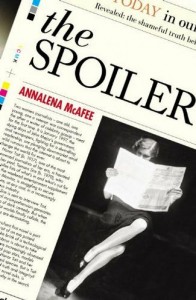 Without actually intending to, I've gone on vacation, mostly thanks to the last two books I've read, both big, fat, enveloping novels. The first was The Spoiler by Annalena McAfee, which was published this year in the UK and will be out in Canada in April. McAfee is a veteran newspaper journalist, as well as (less interestingly) the spouse of Ian McEwan. The Spoiler is her first novel, something of a roman-a-clef, which takes on the UK newspaper business, whose own business has been creating its own press for last six months with the News of the World Scandal. Though McAfee sets her book in early 1997, not so long ago that the fundamentals were so different (or at least the sleazy, illegal tabloid tactic side), it was certainly a different time– John Major was at the end of his power, Spice Girls were only in the ascent, Princess Diana was still campaigning for landmines, and Liam Gallagher was married to Patsy Kensit. And notably, in the newsroom, expense accounts were limitless, and the internet was only going to be a fad.
The problem is that McAfee's narrative is all too aware of itself, conspicuously placed on a pivot point, and when her protagonist Tamara Sim references Princess Diana and Jill Dando in the same chapter (who'd both be dead not before long, we know), or dismisses the internet as a fad, we're taken out of the story, and placed above her. Though perhaps such a vantage point is appropriate, because we're clearly expected to find Tamara something of an idiot. And it it is curious why she, glossy celebrity gossip scribe, has been enlisted with the task of interviewing formidable journalist legend Honor Tait, now aged 80 and doing publicity for a new collection of her articles and essays.
Fallout is to be expected as these two very different characters collide, and the effect is uncomfortable, amusing. As the novel proceeds, both characters become better developed, though Tamara mostly remains a caricature. Fortunately, the plot itself so picks up in the novel's second half that such a flaw is forgiven. The book's ending is surprising, absorbing, and serves to strengthen all that came before it. It's a good old read, and quite devourable in its light touch. Comparisons to Nancy Mitford and Helen Fielding are apt, though I'd probably lean more to the latter. Perhaps like Helen Fielding equipped with a thesaurus is how you'd sum it up just right.
And then there's Thisbe Nissen's Osprey Island, which I bought from a clearance bin in 2009 and never got around to reading. And I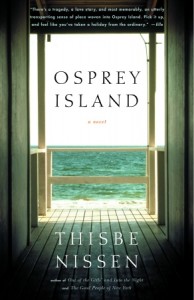 picked the wrong season within which to finally get to it, because this book is Judy Blume's Summer Sisters meets Dirty Dancing. You've got the island lodge with the townies, a crop of Irish chambermaids on working holiday visas, and the preppy waiters ("You just put your pickle on everybody's plate, college boy, and leave the hard stuff to me." The thing you might not know about me is that I reviewed Patrick Swayze's autobiography last year. But I digress.)
Plot hinges on a troubled couple, a fiery death, and battle for custody of a vulnerable boy, with sideplots involving chambermaiding, summer love, the Vietnam War and hotel life. Nissen's a really good writer, which heightens the novel's more trashy elements, and many of the characters are startlingly evoked. It's a beach read for the thinking woman, and I enjoyed it even though I don't even have a beach.