December 18, 2011
Making the season right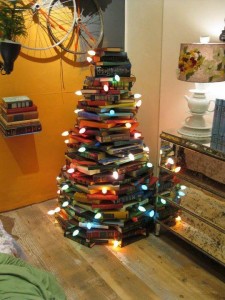 From my Christmas post at Canadian Bookshelf, "Books: Help to Make the Season Right":
"Pictures of this Christmas book tree have been making the rounds online for the last week or two, representing a tangible link between reading and the spirit of the holidays. Though such a link would come as no surprise to anyone for whom gift-giving is a tradition, because there is no object on earth as easy to wrap as a book is. Even the clumsiest thumbs are capable of a present-worthy wrap job, thanks to compact solidity and right-angled symmetry. Further, once the wrapping is shed, the book is ready for reading straightaway, no batteries required, no plugging in to charge… Books have the potential to make everything that's wrong with Christmas right, to make gift-giving about more than acquisition and stuff."
Read the whole thing here.