December 12, 2011
Mnemonic: A Book of Trees by Theresa Kishkan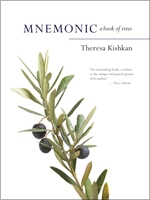 "And how many people could write so interestingly about filbert catkins?" asks Theresa Kishkin in her essay collection Mnemonic: A Book of Trees, and it's a very interesting question, made no less interesting by my not knowing my catkins from my filberts anyway. Which is to say that there is a gap between Theresa Kishkan's world and mine, between Theresa Kishkan's brain and mine. This is a woman who keeps the bone of her dead dog's pelvis on her desk; she writes, "This is not as macabre as it sounds (or maybe it is)."
Kishkan's essays are very different from others I've delighted in during the past year, Kyran Pittman's, Susan Olding's, Ray Robertson's, even Joan Didion's, all of whom write essays whose points of access were profound moments of identification with my own experience, whose prose illuminated my own experience. But Theresa Kishkan's essays have nothing to do with my own experience, or when they do, identification is far from the point. Her essays are the epitome of what Susan Olding described in her own esssay, "That Trying Genre":
Partaking of the story, the poem, and the philosophical investigation in equal measure, the essay unsettles our accustomed ideas and takes us places we hadn't expected to go. Places we may not want to go. We start out learning about embroidery stitches and pages later find ourselves knee-deep in somebody's grave. That's the risk we take when we pick up an essay.
Though the essays in Mnemonic: A Book of Trees are less unsettling than enchanting, and they've been echoing in my head in the days since I've finished reading, as I encountered the woodsy picture book Singing Away the Dark on Friday, and as my house was filled with the scent of balsam fir when we fetched our Christmas tree on Saturday. I may not live in the woods on the edge of the continent, but clearly I know something of trees- how could I not when this is the view from my bed?
And then Theresa sent me her Canadian Bookshelf reading list, and Singing Away the Dark was actually on it, and so maybe the gap between us is not so wide after all.
Whatever I know about trees though, I've got nothing on Kishkan who built her own house from felled logs, is an ever-avid student of dendrology, who wove a bowl from pine needles, remembers reading Nancy Drew under oaks when she was ten, who makes her home in the tree-rich province of British Columbia, spent a season inhaling the scent of Greek olive groves, and connects the beech tree to the homeland of the grandfather she barely knew. Trees are what bind this collection together, however loosely, as Kishkan shares stories from her life, the places she has been, the books she's read, the music she's loved, and the people she has known. She uses various trees as mnemonic devices to awaken the past and illuminate the present.
Not since I first read Pilgrim at Tinker Creek have I encountered anything like this, any mind like this. These essays are challenging, rich and surprising, and well worth the close attention they demand from their reader. And lack of knowledge of about filbert catkins ceases to matter anyway, though Kishkan leaves you curious, but the point is to follow where she leads, her path through the woods, and there's no doubt you're in the hands of a most capable guide.