December 8, 2011
Virginia Lee Burton and the Graphic Novel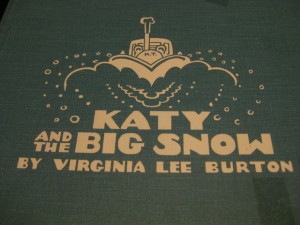 I've enjoyed Virginia Lee Burton's books for as long as I can remember, though never more than I have in the past year as I've come to understand her approach to book design (and how far-reaching was her influence). Anyway, last weekend our friend Aaron picked our copy of Katy and the Big Snow, which has no dust cover because Harriet has declared it her mission to rid books the world over of their dust jackets (plus the jacket was already battered– this was a discarded library book we bought for a quarter. Jacket has been put away to avoid further battering).
And Aaron said, "Don't you think this looks like something by Seth?" And we thought,
"Hey, he's right," of course. And because I know very little about Seth or about cartooning, I did a bit of googling, and found this blog post from Drawn & Quarterly entitled "Virgina Lee Burton: Godmother of the Graphic Novel." So goes the post:
I always find it curious when people draw distinctions between kids comics and kids picture books, basically you're telling stories with pictures in both instances, and the art can't be separated from the words. Why is Sara Varon's Robot Dreams a comic, while Chicken and Cat is not? And really, aren't graphic novels just pictures books for adults. Semantics, I know.
The post is referring to a slide show with the "Godmother of the Graphic Novel" title presented by cartoonist James Sturm. The site it was published on seems no longer current, and the slideshow itself isn't functional, which is driving me crazy, because I want to see it so badly! I've scoured the internet for Sturm's contact info, but no dice. So I'm disappointed, but also excited that the importance of Virginia Lee Burton might be greater than I've imagined yet.