December 4, 2011
On urban picture books, and concepts of home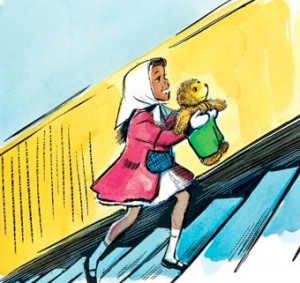 I was holding Harriet's hand the other day as we walked up the flight of stairs to our door when I heard her say under her little-girl breath, "four flights of stairs to family's apartment." I recognized it as a line from Corduroy, and asked her, "Whose apartment?" She said, "Lisa's." I said, "Did you know that we also live in an apartment?" She said, "No. We live at home."
I appreciate Don Freeman's illustrations in Corduroy, probably for similar reasons black parents would have appreciated them when the book was published in the 1960s: here is a picture book that reflects the reality of my child's life. Lisa's is an urban world, with stairwells, department stores, laundromats and sidewalks. And it's a world far removed from the one that I grew up in, at the end of a cul de sac, with a big backyard. I grew up in neighbourhoods where they didn't even have sidewalks, and the only store nearby was a Beckers. The families we looked down upon were those with single-car garages, and the families who looked down on us had driveways made from interlocking brick.
Such a childhood served me well– who needs sidewalks when you can play in the street? And manicured lawns are fine and well when there are ravines to explore, and creeks to wade in, and games of Nicky Nicky Nine Doors to be won. But the choices we made for our family would be different– we want to be able to walk to our places of work, and not have to work so much, and not working so much means we don't own a house, and not owning a house means we get to live in the apartment of our dreams in a neighbourhood close to the places where we work, and so it goes, a most unvicious cycle.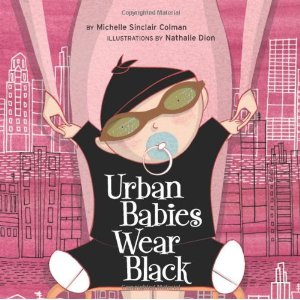 Ours not such an unusual choice, of course, and this is underlined by the so many wonderful children's books these days depicting urban life. In fact, some of these books commodify urban life to such hipsterish effect– I'm thinking about Urban Babies Wear Black, or the various board books we own about sushi. We're big fans of Mo Willems' Knuffle Bunny Books, and for a long time, I would read these and wonder if Harriet's urban life wasn't urban enough, and were we denying her a proper childhood in a Brooklyn brownstone? And then I read an article about the time Willems has to spend photoshopping the unsavoury elements of his neighbourhood out of the books' photographic illustrations, and came to terms with our urban life as it is.
Urban life presented how it is is why we love Bob Graham's Oscar's Half Birthday, with the graffiti in its streets and the wonderful rumble of the train overhead. It's why we love Subway by Anastasia Suen and Karen Katz ("We go down to go uptown. Down down down in the subway"). Joanne Schwartz and Matt Beam's City Alphabet and City Numbers present city grit in all its glory. And Don Freeman's contemporary too, Ezra Jack Keats, whose sidewalks and alleys are ways of delight. Even Shirley Hughes' books with their domestic focus have the city as their backdrop– buses, stoops, parks and traffic.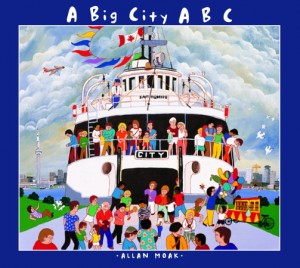 We are fortunate that some of our very favourite urban stories are set in the city where we live: Allan Moak's A Big City ABC, poems from Alligator Pie, Who Goes to the Park by Warabe Aska, Jonathan Cleaned Up and Then He Heard a Sound by Robert Munsch, and when Harriet's bigger, I hope she'll enjoy Bernice Thurman Hunter's Booky books as much as I did. One of our favourite books of all time is Teddy Jam's Night Cars, set against a Toronto streetscape, and we love the familiar TTC as presented in Barbara Reid's The Subway Mouse. (Find more Toronto kids books as recommended by Imagining Toronto's Amy Lavender Harris.)
The urban setting in children's literature has become one we can almost take for granted over the past 50 years, thanks to pioneering author/illustrators like Freeman and Keats. These days, children's books are working to further broaden notions of home in stories like Maxine Trottier's Migrant, about a young girl belonging to a family of itinerant workers. In Laurel Croza's award-winning I Know Here, a girl whose home is a trailer in Northern Saskatchewan contemplates a move across the country to Toronto, and takes stock of all she knows and loves about the place where she lives. Martha Stewart Conrad's books (we like Getting There) show children from communities all over the world enacting various versions of every day life, portraying the fascinating ways in which we're all alike and different at once.
How wonderful that my child's storybook worlds can be as diverse as the one we see outside our window. And once she understands that home is a concept that is broader than just this place where we live, she'll know how hers fits in with all the rest of them.