November 29, 2011
Frog and Toad: The Letter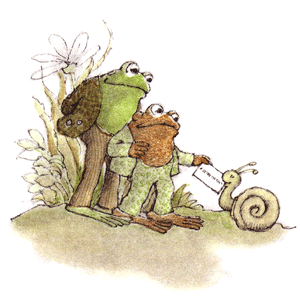 Without a bit of exaggeration, I promise you that "The Letter" by Arnold Lobel is the very best short story I've read lately. A chapter in Lobel's book Frog and Toad Are Friends, "The Letter" begins with Frog coming along to discover his friend Toad sitting on his porch looking sad. Toad explains that this is his sad time of day, because it's the time of day when he waits for the mail, but not once has he ever received a letter.
Toad, characteristically, is resigned to his sadness, but Frog wants to help his friend. So he rushes home and he writes Toad a letter, arranging to have it delivered to Toad by– and wait for it– "a snail that he knew." And I'm not going to give away any spoilers here, but I suspect you can surmise where the rest of the story might go.
Frog and Toad is a recent discovery for us, part of the Classic I Can Read Books whose series include both Frances and Little Bear, who we love. All three series are simple in their language, but magic in their depths, in their strangeness, their child's-eye-view of the world revealing such startling vision. The characters are all lovable, real in their foibles, and driven by a very human kind of motivation (which is remarkable, actually, when we're talking about toads, badgers, and bears).
Frog and Toad in particular is philosophy and poetry, provocative, but also comforting. And they're funny, on the surface yes, but also underlyingly so in a way that young readers won't necessarily understand, but won't feel foolish for missing either. Arnold Lobel never patronizes. What a truly masterful storyteller.