November 20, 2011
T is for Toronto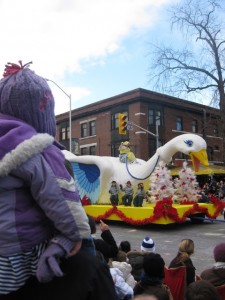 Just in case I wasn't totally steeped in Toronto already, having just finished the Eatons' biography, they scheduled the Santa Claus Parade for this weekend. We've never been before, even though it goes by right around the corner from our house, but we made it out this year because Harriet's at the perfect age to be overwhelmed by the magic of it all. She enjoyed the whole thing, found the giant Barbie appropriately disturbing, and said that the Mother Goose float was her favourite of all of them. Which is unsurprising really, because we're Mother Goose mad around our house these days.
Since Harriet arrived in our lives, we've come into possession of no less than four Mother Goose Books, which you might think is overkill but each offers something slightly different– we've got Scott Gustafson's stunningly gorgeous Favourite Nursery Rhymes from Mother Goose which is handled with care, a second-hand copy of Iona Opie's My Very First Mother Goose which is loved with wild abandon, Richard Scarry's Best Mother Goose Ever with its illustrations guaranteed to transfix wee ones (and also its admirably subversive violent edge), and the nice and portable Sing a Song of Mother Goose by Barbara Reid.
I've also come 'round to "Bat bat come under my hat…" and no longer think it's stupid.