November 2, 2011
The Vicious Circle Reads Saving Rome by Megan K. Williams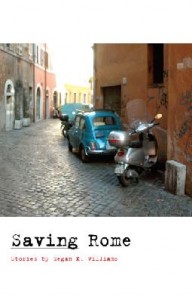 I'm coming out of first-person plural here, because I loved Saving Rome by Megan K. Williams without reservation. I'm coming to the tail-end of the busiest month I've had in years, and the space I'd carved out to read this book– sitting on the couch during Harriet's nap times, holding the book open with my feet while I furiously knit up this hat— was like a gift to myself every day last week. The reading was a pleasure, the stories so diverse in their approaches to their subject, so strong, convincing, so funny, and underlined a lot of experiences from my expat days. I don't think I'd enjoyed any other book as much that we've read for our club, unless it was a book written by an English novelist in the 1950s. It's one of the best books I've read lately, and I'd recommend it wholeheartedly.
What being in a book club has taught me, however, is that there's no telling with taste. And that taste is so much what we're talking about when we're talking about books, no matter how much we couch our arguments in aesthetics. I also know that being in a book club has made me a better book reviewer (and it has made being a book reviewer that much harder. I second-guess myself more often now. Which, for a book reviewer, is a good thing.)
Anyway, reactions were mixed across the board as The Vicious Circle assembled in the St. Lawrence neighbourhood of Toronto last Saturday morning. We were also dressed as literary characters for Halloween (and one of us was dressed as a genre)– I was wearing a 99 cent 54DD bra from Honest Eds, stuffed with Harriet's plush balls as Georgina Hogg from The Comforters, but not the sexy version. There was lots of delicious food, and plenty of gossip, and even a baby, then we got down to the book.
It was boring, said one of us, and another of us was aghast. One of us had struggled for a while with not liking the characters, which was disturbing because she's a better reader than that, but then she realized that she just didn't care about the characters. That they were boring. That they were living in Rome, but weren't engaged with the setting at all. They could have been anywhere. "But that's just the point!" said another one of us, pulling out the old "I've got personal experience of it" trump-card, which is a stupid trump-card actually, because a book isn't good just because it reminds me of when I lived in Japan.
The point though, that one of us continued, is that living abroad and being engaged with a place is exhausting, and can unsustainable, and that Williams' stories reflect the frustration, rage, ennui and struggle of one who is living where she doesn't belong. Fair enough, says another of us, but the stories were all the same, the same kinds of people, the same kind of stasis, the non-endings. Even though the characters were married, single, gay, parents, variously? But they all sounded the same, was the problem. It was also noted that the gay characters didn't get to have sex, that Williams shut the door on their encounter, when it was flung wide open for heterosexual couples.
There was no consensus on best stories, though "Pets" probably was closest to it, particularly the strange pet shop owner. It was noted that Williams' Italian characters were more interesting than her expat characters who seemed more like stereotypes. Though we also liked the story "Saving Rome for Someone Special" about the perils of living abroad with friends-of-friends always showing up to sleep on your sofa, and what happens when a girl arrives who is certifiably insane. There was some debate as to whether Jonathan is pathetic as he's presented, and why exactly he's presented as pathetic. It was felt the ending petered out the same way they all did.
We liked the wit though, the dialogue. We liked that a hamster died of being squeezed to death. We liked the end of "Motion": "But that day, when her eyes finally fell on it, on Frank's arrow made of dried corn stalks pointing right, she felt a startling surge of gratitude for being linked this way to another human being, and she followed it." We weren't nuts about the two stories that weren't set in Rome. Some of us liked the first story very much, its "acerbic wit" and others found it frustratingly "mommish". But then no, exclaims another. The point was what was going on below the surface, how she kept laughing at inappropriate moments and was on the verge of a nervous breakdown.
And so it continued, volleys back and forth over coffee and apple cake, and cupcakes, and guacamole (because there is always guacamole), and always, as always, a splendid time was had.