October 27, 2011
Our Best Book from the library haul: Once Upon A Golden Apple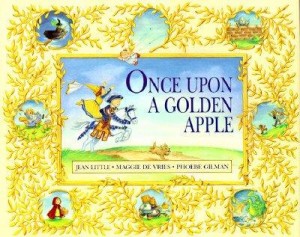 It was meant to be, really. A team of Canadian kid-lit legends Jean Little and Phoebe Gilman could only ever have been a success. Co-Author Maggie de Vries too– I'd read her memoir Missing Sarah years ago, and she's had a successful career writing for children as well. But I am really baffled as to how it's taken me so long to discover Once Upon a Golden Apple.
The very best book from the library in a bumper week of very good books from the library, and as soon as we began to read it, we just knew. It begins with a father telling his children a story, deviating from the familiar tropes much to their chagrin. "Once upon a golden apple?" "No!" the children shout. "Once upon a singing fiddle?" "No, no, no, no, no!" With each preposterous suggestion, the children become more and more agitated, and just when they think they've got their dad back on track, he breaks off again: there lived Goldilocks and the Seven Dwarfs? The princess kissed Humpty Dumpty? Who turned into a gingerbread boy? "No, no, no, no, no!"
Gilman's children are adorable and Jillian Jiggs-ish, and we like the sausage-stealing dog that the storytellers are too en-rapt to notice. de Vries and Little finally manage to get the tale told, though not before making ridiculous suggestions that Harriet finds hilarious, and loves most of all because it's always fun to be in on the joke, especially when you're aged two.