October 23, 2011
New Kids Books We've Been Enjoying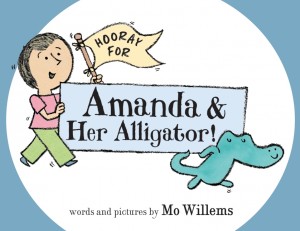 Hooray for Amanda and her Alligator by Mo Willems: Willems is the best part of parenthood, his stories of Elephant & Piggie, Knuffle-Bunny and that notorious Pigeon never failing to delight, but I think that Amanda and her Alligator is my favourite yet. Amanda arrives home from the library with a stack of books, and her toy alligator has been waiting to play with her. Over 6 1/2 chapters, Amanda reads though her library stack (mostly nonfiction– my favourite is Climbing Things for Fun and Profit, or maybe Build It Yourself: Jet Packs!), and sets upon adventures with Alligator without ever leaving her room. The drawings are clear and simple, the stories too, and they're heartwarming (though not ickily so) as they are funny.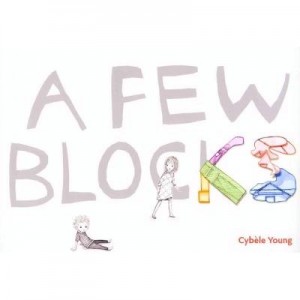 A Few Blocks by Cybele Young: There is nothing simple about the illustrations of Cybele Young's book A Few Blocks, in which imagination transforms the few blocks it takes to walk to school into a rich fantasy world. Ferdie doesn't want to go school, but his sister Viola coaxes him along the way by creating adventure out of the ordinary, just as Young herself does through collage of her drawings which transform ordinary bits of neighbourhood into a giant sailing ship, a knight's battleground, a superhero's stomping ground.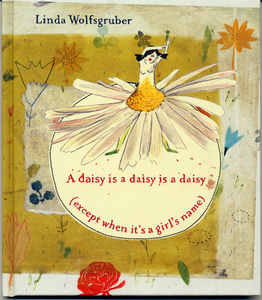 A Daisy is a Daisy is a Daisy (except when it's a girl's name) by Linda Wolfsgruber: A Daisy… is a strange book that will probably appeal most to anyone with a flower name, or those of us who read baby name books as a pasttime. Gorgeously illustrated, Wolfsgruber shows that girls all over the world are named after flowers, and in all kinds of different languages. In Greek, Ianthe means violet, and she is Jolan in Hungarian, and Yolanda in Spanish. In Dutch, Mirte means Myrtle, she's Hadassah in Hebrew, and Mirta in Spanish and Greek. "And Chloe is a very young sprout…"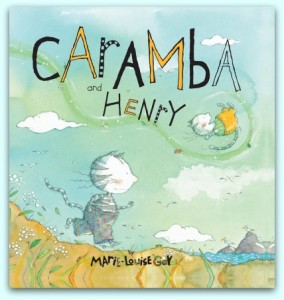 Caramba and Henry by Marie-Louise Gay: "Stella and Sam?" said Harriet the first time she saw this book, and it doesn't even matter that it's not, because Marie-Louise Gay is always good. Though I don't get him, Caramba, the cat who can't fly. "But cats can't fly!" I keep protesting, and people shout back at me, "That's the point. Isn't it awesome?" I'm not sure, but Harriet has never batted an eye, the story is great, the full page spreads absolutely breathtaking in their scope. Marie-Louise Gay is a treasure.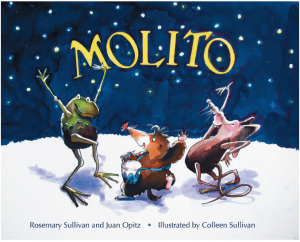 Molito by Rosemary Sullivan and Juan Optiz, illustration by Colleen Sullivan: Rosemary Sullivan is a friend of mine, and Harriet loves drums, so we were set to love this book from the get-go. The story of a little mole who dares to climb up from the underworld and discovers a whole other world out there of music, dancing and light. But losing himself to this world would require losing the friends and music he made in his life underground, so Molito seeks a way to make a connection between the two. "Above and below/ In the dark and the light/ Upside down and upside right/ Below your feet and above your head/ There's just one world./ There's just one world." Colleen Sullivan's illustrations are delightful in their detail, and the book also comes with a CD of Molito's music.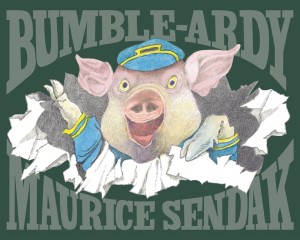 Bumble-Ardy by Maurice Sendak: I'm more confused by Maurice Sendak than I am by Caramba, actually, but my appreciation for Sendak's new book Bumble-Ardy was underlined when I read his interview in The Paris Review. Harriet just likes the pigs, the birthday party and the pictures. The rhyme is a bit ripped off from Ludwig Bemelmans, reminding us of a someone we once knew who left the house at half-past nine in rain or shine, but I'm less confused than I was with Outside Over There, and there is depth here that reader young and old can tumble into and wander around in. Every time I read it, I appreciate it more.