October 20, 2011
Our Best Book from the library haul: Ira Sleeps Over by Bernard Waber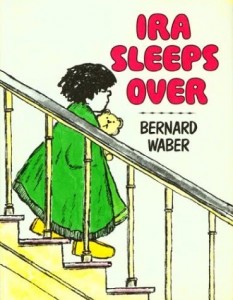 We're having a bit of an affair with Bernard Waber's Lyle the Crocodile books, which are so good, and Harriet loves them. Though they're a bit long, and I'm not sure every toddler would have the patience, so I was delighted when we took out a new book by Waber, Ira Sleeps Over, and discovered that here was a less text-laden book that I could heartily recommend.
I love these '60s/70s' children's books (Waber reminds me of Louise Fitzhugh and Judith Viorst), their sharpness, and their irreverance. Plus, Waber is an author/illustrator, and the best of these people can elevate the picture book to a whole other level. Must confess up front though that I am disproportionately amused that this book contains the line, "That night, Reggie showed me his junk." But that's only because you're the one with the sick mind.
Ira has been invited to a sleepover at his friend Reggie's house. He's excited, but a little nervous, and he goes back and forth between these emotions in passages with his parents and meddlesome sister– the repetitive language will especially appeal to young readers. When Ira wonders if he should bring his teddy bear with him? Would Reggie laugh?: ""He won't laugh," said my mother. "He won't laugh," said my father. "He'll laugh," said my sister."" I particularly love the family dynamics, very Free to Be You and Me with Mom and Dad making dinner together, both parents pursuing interests beyond their parental roles as Dad practicising the cello in the evening, and Mom hides behind the newspaper.
Eventually the sleepover arrives, and Reggie and Ira have fun together. Reggie shows Ira his junk collection in a fabulous two page spread that might have inspired a young Marthe Jocelyn to go on to write Hannah's Collections. The boys start to tell ghost stories, and the moral of the book turns out to be that a need for comfort is universal, that teddy bears are much less controversial than a small boy might think.