October 12, 2011
The Big Dream by Rebecca Rosenblum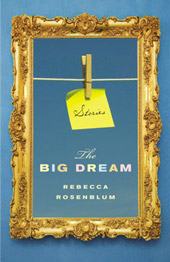 Though I am far too close to Rebeccca Rosenblum to be able to give an unbiased assessment of her new short story collection The Big Dream, I'm going to let my bias fly and tell you that this is a wonderful book.  A collection of linked stories about employees at the struggling publishing company Dream Inc., The Big Dream begins with tech support staff scurrying underfoot like rodents and then moves up the corporate food chain– call centre staff anticipating lay-offs, a cafeteria worker who can't get it together, a new-hire who casts the jadedness of the design staff in terrible perspective, the retired CEO who can't accept that it's over, a lusty encounter between the CFO and Senior Marketing Manager, tension between the top execs, and the final story, "This Weather I'm Under" about a VP charged with firing an entire department as her mother lays dying in the hospital.
The entire collection reminded me of a line from Rona Jaffe's The Best of Everything: "It's funny, she thought, that before she had ever had a job she had always thought of an office as a place where people came to work, but now it seemed as if it was a place where they also brought their private lives for everyone else to look at, paw over, comment on and enjoy." Though there's not a lot of enjoyment going on in The Big Dream, but certainly, Rosenblum shows that our lives are what we bring to work every day. It's the personal calls we take at our desks, the way decorate our cubes, what's in our lunch bags, and hidden in our drawers, and in our coats, and tights, shoes that pinch, and our dental emergencies too. It's in the camaraderie between office-mates, the shared language, inside jokes, and institutions.
My favourite story is "Research", a story of libreation about a woman who shows up to work one day to discover her entire department has been laid-off and is suddenly left to her own devices. She devotes her research to discovering her office building– its incredibly topography (which is always changing– cubes go up, cubes come down), and the floors above and below her own that she's never seen before– the modern office has never been seen through such eyes before, and with such reverence. I love the sex scenes in "Loneliness", which are so perfect. I'm uncomfortable with the Russian boy who masturbates into a sock in "Complimentary Yoga", but only because I'm a prude, and I'm amazed by how thoroughly he's been created. "How to Keep Your Day Job" is a wonderful story in second person, the exhausting tale of a fall down a flight of stairs. I love the ending of "After the Meeting", in which a group of co-workers assemble after their entire department has been dismissed, and they have to consider what they really have in common anymore. I know the predicament of the tech support guy with an abscessed tooth who dreams of dental coverage and is even entitled to it, except that he's not been given his three-month review and the company really has no intention of making him permanent staff.
The backdrop is bleak, but the conversation is funny. In this fascinating look at the cogs that really run the corporate machine, Rebecca has written a book that's even better than her much-praised first collection Once. A must to check out for any cubicle dweller, and also for any reader who likes to marvel at the amazing things the short story can do.