October 6, 2011
Our Best Book from the Library Haul: Russell Hoban's A Birthday for Frances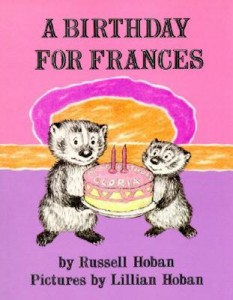 It's probably only been a month since we became acquainted with Russell Hoban's Frances books, but I feel like she's been a part of our lives forever. She was fast beloved, and my only complaint is that some of her books are a little bit long, which is a problem, you see, because I never end up reading one less than three times in a row. Harriet's attention rarely wanders, however, and I think we've found our favourite Frances yet with A Birthday for Frances. The story of an older sister (who just happens to be a badger) upset with the attention being paid to little sister Gloria who's on the verge of turning two. I love the Frances books because Frances really battles her demons, her worst self, and she shows that doing the right thing is so hard (and more over, she doesn't even always do the right thing). For a badger, she's one of the most realistically drawn, complex characters I've ever encountered in a picture book.
Love this book also for the marvelous prose as Frances sets the scene for an imaginary frend called Alice:  "That is how it is, Alice," said Frances. "Your birthday is always the one that is not now." Or when she's reluctantly drawn into making place cards for Gloria's birthday table, and sings: "A rainbow and a happy tree/ Are not for Alice or for me./ I will draw three-legged cats./ And caterpillars with ugly hats."
I love the way Hoban acknowledges the dark side of a child's emotional life, reflecting and validating feelings of jealousy and anger. And how the story shows its readers how to work through these feelings, but is also resolved in a way most marvelously un-saccharine.
*Turns out Russell Hoban is a sci-fi, fantasy novelist. Though there is no sign of this in the Frances books, it's not all that surprising either.