September 27, 2011
Mini Review: Come Up and See Me Sometime by Erika Krouse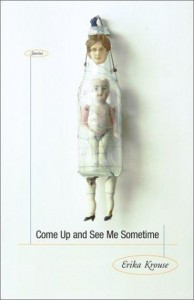 I feel a bit sorry for any book that was published in 2001– that day in September, scores of brand new books would have been made dated immediately, becoming relics of a different time. Perhaps this is part of the reason that Erika Krouse hasn't published another book since her debut collection Come Up and See Me Sometime, which I bought discarded from the library for a quarter (see? the story of this book was always going to be a tragedy). Her book came into the world when "chick lit" was not so ubiquitous, and still had the potential to be an interesting genre. Her book contained a story called "Too Big To Float" in which a pilot says to his girlfriend, "Go to Aruba with me. I'm flying there tomorrow. It'll be free. You can sit in the cockpit and see how it's all done." A product of another time indeed.
Come Up and See Me Sometime is constructed on a gimmick– each of these stories is preceded by a quote from Mae West. Though I'm no Mae West devotee, the gimmick is superfluous to the stories' appeal, and I bought this book because it's about women who choose not to get married, who choose not to have children. It's about women who make these choices but also don't necessarily live like adolescents, and I found this approach intriguing. My own reading is drenched in stories of domesticity, and I wanted to broaden my literary horizons a bit.
One never expects to really enjoy a book that was got for a quarter, but it turned out that I received a very good deal. Krouse's stories are darkly funny, edgy and wise. Impersonators contains the passage, "On Anna's eighteenth birthday, one of her friends had given her edible underwear. She didn't go on a single date for over a year. Anna said that eventually she got tired of waiting and ate them herself." Which is sort of the story of my life.
In "My Weddings" (West quote: "I'm single because I was born that way), a character recounts the weddings she's attended in her life, and ends with "relief and fear tangled together, like the hands of women clutching in the air for a falling bouquet of something." In "No Universe", a woman considers her choice not to have children, and finishes with the most stunning ending, baby with a crackpipe. Romance with an addict is dealt with in "Drugs and You", in "Other People's Mothers", the protagonist gauges her relationship with her mother against the relationships she has had with mothers of friends and boyfriends, in "Impersonators", a love triangle gone askew involves two office temps who are both so realized.
Come Up and See Me Sometime was a great read, so completely full of promise, and I'd love to know what Erika Krouse, if she's come out of the cockpit, so to speak, and what her characters would make of this sad new world we're in today.