September 26, 2011
Author Interviews at Pickle Me This: Jon Klassen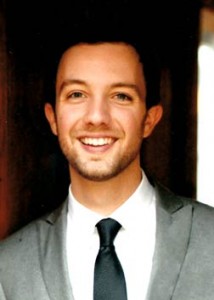 I'm excited to be part of the Jon Klassen blog tour for I Want My Hat Back. At our house, we first discovered Klassen's work with Cat's Night Out, which not only won the Governor General's Award for Illustration, but also received the enormous honour of being our Best Book of Library Haul on July 25th 2011. I also enjoyed  his interview at the fabulous kids' book blog 7 Impossible Things Before Breakfast. Clearly, Klassen is an interesting guy (check out his blog for some proof) and I'd love to know more about the trajectory of his career, why he's so fixated on oblong shapes, what his own hat looks like (and if he's ever lost it), but I am not going to ask.
Most of the writers I interview on my blog write chapter books (for adults) instead of picture books,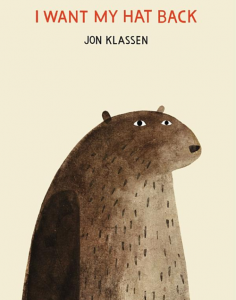 and I have strong feelings about these interviews focusing on the works themselves rather than their creators, and just because the work in question here is 250 words in length shouldn't make it an exception. I Want My Hat Back is also good enough that it doesn't have to be an exception. In these 250 words and the drawings, even with all the understatement in both, there is a whole lot going on, between the lines in particular.
Klassen is an Ontario-born illustrator now living in Los Angeles. He was kind enough to answer my questions via email.
I: So, is this a book whose words accompany the drawings, or is it the other way around? Was it from images or words that this story originated? If it was from images, was the story implicit in the pictures, or did you have to go searching for a plot?
JK: I'm not sure it's either one or the other, as far as what accompanies what. The story came from just the idea of a book with the title "I Want My Hat Back", and a character on the cover who wasn't wearing a hat. It was done being written before the pictures, but the writing had the notes about the pictures in it. I wanted a story where the characters didn't have to do very much physically, so knowing that helped in the writing, but it wasn't a case of having the characters first and then looking for something for them to do.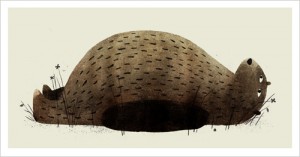 I: The bear's character is rife with contradiction: he has a single-minded fixation upon locating his hat, yet he misses the hat when it's right before his eyes. When the situation has never been more urgent and he fears never seeing his hat again, his response is to lie down on the ground in despair. When we read him aloud at our house, he speaks in a monotone. How do you read the bear?
JK: I read the whole thing in monotone too. I wanted to try to and make it like the animals were given lines to read off of cue cards. That's why, at the beginning, the animals are looking at us and not each other. The bear doesn't see the hat initially because he's sort of in the play by then and is just waiting for that scene to be done, so he's not really paying attention. When he realises later what the rabbit has done, it's like he forgets he's in the play and becomes a bear again and does what a bear would do if he learned that this had been done to him.
I: I can understand the bear's limited perspective though. Don't tell anybody, but the first time I read your book, I completely missed the twist on the last page, the "hat on the rabbit's head", to speak in metaphoric terms. One man's obvious is another man's subtle, or maybe it depends how fast one man is reading. How do you draw the line? (I'm speaking in metaphoric terms again re. line-drawing)
JK: Keeping that last thing sort of subtle has turned out to be pretty handy when people wonder if the story is too mean for kids. Visually, the problem the book started with is solved at the end, and younger kids, I think, might stop there. That what actually happened is kind of easy to miss sort of saves it for older kids who are reading it to themselves, or are at least paying more attention to the words. I don't want the book to come off as antagonistic or especially cynical or anything, and I hope that by stashing it away in that last paragraph that we've already heard earlier, it gets excused from that.
I: The key to this story's success is its really simple language, and repetition. Were these a limitation or an aid to you as wrote the story? Similarly with the basic nature of the drawings (ie that the animals are devoid of facial expression). Can limits have an expansive quality?
JK: I think they definitely can. I'd never written a book before, so the formality of narration was really intimidating and I kept feeling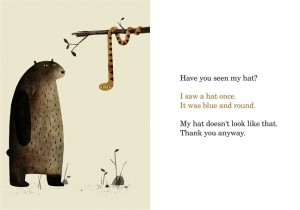 like a fake. When the idea came up of doing the whole thing in dialogue I got a lot more comfortable with it. The stiffness of the language was really the only way I felt comfortable getting the facts across, and the drawings of the animals are kind of the same way. The feeling I wanted to get into the illustrations of them was the same expression you get from a pet that you dress up. They look kind of surprised, they don't want to move, and they are just generally unimpressed.  I think they all have better things they could be doing, but I have this story I want to do, so just hold still for a minute.
I: Is this a story about lying? About complacency? About carnivores? About hats? How do you explain it?
JK: I like to think that it's just a story about itself. It came together so randomly that I can't really claim a big message. The only abstract idea I had when it was being made was about the rabbit being indifferent, and how threatening indifference can feel. When the bear comes back to him and accuses him of something he's pretty obviously guilty of, the rabbit doesn't have a reaction. And when it becomes clearer what the punishment is going to be for this, he still doesn't really react. He's silent and unapologetic for this thing he did, and there really isn't any way you can think of dealing with such indifference. There's no reasoning with it, so the bear does what he does.
I: Until the story's conclusion, the bear takes real action just once, when he helps out the turtle and lifts him atop the stone he's been struggling to climb all day. But then the turtle is stranded there, isn't he? Isn't that kind of terrifying? What happens to the turtle??
JK: I think the turtle's going to be fine. I wanted the bear to do something like that to remind us that even though he's polite and sad and everything, he is still physically capable of picking most of these guys up off the ground, which is an important thing to keep in mind.
It sounds strange to say given that the turtle only has one line in the book, but I think I "get" him more than most of the other characters in the story, so I'm hoping there will be a book just about him some day.
Blog Tour Stops: