September 25, 2011
The Vicious Circle reads Lucky Jim by Kingsley Amis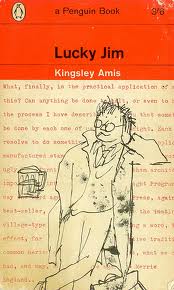 The Vicious Circle rocked The Junction last Thursday night, sitting out on a porch that was deep enough for all of us, on a September night that was warm enough to still be summer (until it got dark, and the chill set in, but it still wasn't too bad at all). We begin with Kingsley Amis's Lucky Jim, and the character of Margaret. That she shows Amis' limitations in creating female characters, and some of us were offended that she turned out to be such a manipulative, conniving minx, though others though her manipulative, connivingness at least showed a bit of agency and made her a less pathetic character (and just as hateful, therefore, as everybody around her). We weren't sure exactly who she was– she was mousy in her spectacles, though she also flirts with beads and an arty wardrobe. Clearly Margaret is trying it on as much as anybody else is. Though Christine isn't, or when she is, she's covering up something more appealing– we note that she's described as "unmanningly beautiful", and that she takes on typical male roles in their relationship, and that she threatens him with her strength– we wonder if they'll actually end up together? Also, we loved Carol Goldsmith, who underlines that Jim, sexually, is still an adolescent.
We thought the book was hilarious– Dixon's unfortunate phone calls to Mrs. Welch in particular. Those of us in the know remarked that Amis's send-up of academia was spot-on. Though we couldn't figure out if Professor Welch was as dotty as he seemed– was there method to his madness? Was he an older version of Jim? Though we decided that he probably wasn't because dotty or not, he did have passion for what he did, whereas Jim had passion for nothing.
We talked a lot about class– about how this slapstick comedy works in Britain in a way we'd find much less amusing if it were American.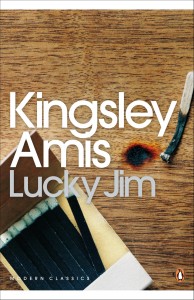 Jim Carrey as Lucky Jim, somebody noted, would be unbearably horrible, whereas Hugh Grant might be able to pull it off. We wondered why the cultural differences in terms of comedy, and determined that Britain is so firmly entrenched in a class system that there are so many more inviolable rules for characters to transgress. Hence the humour. Though one of us would point out that the American comedy that comes closest is the TV show Curb Your Enthusiasm.
So what about class and Lucky Jim Dixon? What's his background? He only mentions his parents briefly when he laments that he has not parents such as Bertrand Welch's who'd put him up in a London flat. We learn that the universities are being opened up due to scholarship programs, and this is probably how Jim got there, though it's pointed out that this expanded population has resulted in a lowered tone. Jim was in the war, was stationed well out of the way of battle up in Scotland, which is typical really for how things go, but it also means he's never had a chance to prove himself (or be killed with a bullet blast). We thought about him in comparison with Arthur Seaton, a literary contemporary from Alan Sillitoe's Saturday Night and Sunday Morning— that both characters are locked in where they don't belong. Then there's Amis and the angry young men– Sillitoe's Seaton was a bit of a departure from the other's though, due to Sillitoe's own working class origins.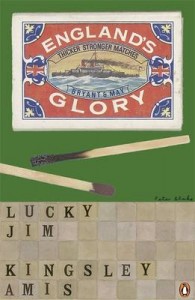 Is class then the focus, that Jim is where he doesn't belong? That he's dared to transgress the bounds of his working class origins, and as a result he belongs nowhere. Though what is the class of the other characters, one of us asked? Do they necessarily come from better backgrounds, and it's suggested that they don't. That academia is rife with misfits, and Jim is a misfit amongst them, or outside of them, rather.
Though in Jim's own words, "I'm afraid that's a tall order. Explain my conduct; now, that is asking something. I can't think of anybody who'd be quite equal to that task." And from this we took that it's possible to read into this book too much, that it's really comedy at its heart, one ridiculous action after another, unstoppable once the wheels were in motion. That at his own heart, Jim's an idiot, a passive and lazy asshole. We wondered about the title because so many unfortunate incidents happen upon Jim that we're not sure how he could possibly be "lucky", but he is, and the ending proves it. That he was on the right trajectory from the start: "It was luck you needed all along; with just a little more luck he'd have been able to switch his life to a momentarily adjoining track, a track destined to swing aside at once away from his own."
Really, then, is this a book about faith?