September 24, 2011
Vic Book Sale 2011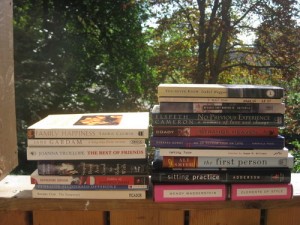 There are not words for how amazing was my haul from this year's Victoria College Book Sale. Though I did not do as I intended, which was to buy only books from a list of titles I was looking for. From the list, I found one: Barbara Gowdy's We So Seldom Look on Love, because I've never met anyone smart who didn't revere it. The rest I couldn't help but pick up alongside it, and I'm so pleased with my selections– I didn't make the mistake of buying aspirationally, or picking more battered paperbacks condemned to sit unread on my shelf a half-decade.
The only problem is that I am still determined to get through that unread shelf that I've been plowing through for the past six months– they're in alpha-order by author, and I've read up to K so far. And in order for these books to continue to be read, I've decided not to read a single one of these delicious new selections until the shelf is empty. Which is a bit torturous, actually, but also very good incentive.
Books got: Family Happiness by Laurie Colwin (which I've read already, but has been missing from my library), A Long Way from Verona by Jane Gardam, The Best of Friends by Joanna Trollope, Stupid Boys are Good to Relax With by Susan Swan (I read this when I was in university, and hoping the title might justify my lifestyle at the time), Fables of Brunswick Avenue by Katherine Govier (we don't live on Brunswick, but we do live about 30 metres from it), Offshore by Penelope Fitzgerald who I am determined to learn to appreciate, The Temporary by Rachel Cusk who is Rachel Cusk after all and I love everything she touches, You Never Know by Isabel Huggan who I've never read. I actually wanted The Elizabeth Stories but didn't find them– have been interested since Elizabeth Hay's recommendation on Canadian Bookshelf, I got The Rosedale Hoax by Rachel Wyatt which was pubbed by Anansi in 1977 and which I learned about from Amy Lavender Harris's book Imagining Toronto, Elspeth Cameron's memoir No Previous Experience, Lynn Coady's Strange Heaven, Saving Rome by Megan K. Williams which my book club is reading next month, Ali Smith's collection The First Person, Caroline Adderson's novel Sitting Practice, and Wendy Wasserstein's The Elements of Style.
And in about 40-some books' time, I'll be permitted to read them!