September 18, 2011
Eden Mills 2011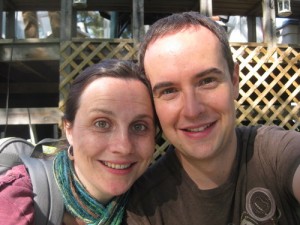 Last year, our Eden Mills Writers Festival experience was diminished by the efforts we spent on trying to get Harriet to fall asleep to no avail. Today we accepted that there would be no sleep (highly controversial), and had a marvelous time. The weather was glorious. We also particularly like Eden Mills because it functions in accordance with our family philosophy of not leaving the house early in the morning, and so there were pancakes, and pajama lazing. Then we hit the road, and the traffic was easy. The leaves were not as autumnal as in year's past, but I was also wearing capris and sandals, and that was nice. We rolled in Eden Mills around 12:30, and so the day of literary festivalling began.
It was my fourth Eden Mills, by the way, and Stuart's and Harriet's third. The first readings I wanted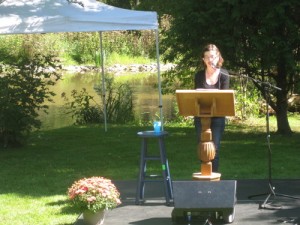 to see were the poets, but they were indoors in the Chapel, so Harriet and Stuart stayed outdoors with Harriet's outdoor voice. And I heard Priscilla Uppall and Lorna Crozier, who were so, so wonderful. In exchange for missing the reading, H&S split a cupcake, so everyone was happy. Then we went to the children's readings, where we heard Andrea Wayne von Königslöw, and Kari-Lynn Winters. I skipped out partway through Winters, however, so that I could hear my friend Julia read at the Fringe Stage, and she had her audience utterly engaged. It was a pleasure to see her there.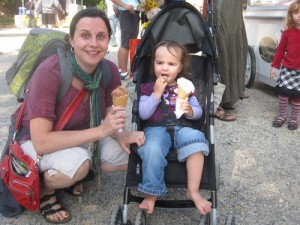 After that, I met back up with my family, and we went to hear Claire Tacon and Alison Pick. Then to the Organic Ice Cream sellers, who delighted everyone involved. We stopped on Publisher's Way to do a bit of shopping, and to meet with our Biblioasis and TNQ friends. (It was a friend-filled day. Today Eden Mills was populated by some of our favourite people.) Must admit, was a little disappointed to see other indie presses missing, in particular Brick Books because I'd been looking forward to buying Stephanie Bolster's new book. Alas, my heart was delighted by the new addition of Demeter Press, however, and the chance to meet the fine people there (whose work I've been a champion of in the past). We ended up buying Claire Tacon's In the Field, Amanda Jernigan's Groundwork, Rocking the Cradle by Andrea O'Reilly, and Andrea Wayne von Königslöw's How Do You Read to a Rabbit?
We went to see the magician next, who was awesome (though Harriet went into a frenzy when he started making balloon animals,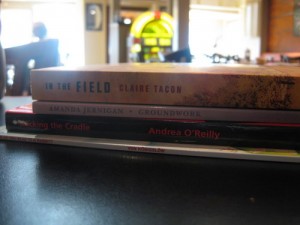 screaming, "I want monkey right now!" and we had to talk her down, because there weren't enough to go around). And I wanted to stay for the last session to hear Johanna Skibsrud read from her new book, but Harriet was fading and we're smart enough now to no longer push our luck. She'd been so good all day, and so Eden Mills was over while the going was still good. (I did get to sit across the aisle from Skibsrud at the poetry readings though, which was kind of cool).
Last night I'd googled "Places to Eat Near Eden Mills", and discovered a small town called Rockwood about ten minutes away. We drove there, hoping something would be open, and stumbled upon The Heaven on 7 Bistro and Pub, which was so delicious, the perfect end to a perfect day. Harriet was on her way out and spent most of the meal under the table, but we delighted in our dinners, and Harriet came up to partake in cheesecake. Then home again, home again, and Harriet agreed not to tantrum as long as we listened to Elizabeth Mitchell's "Freight Train" on repeat, so there was a lot of that. Fortunately, traffic was kind to us again. Then home.