September 8, 2011
Our Best Book from this week's library haul: Has Anyone Seen My Emily Greene?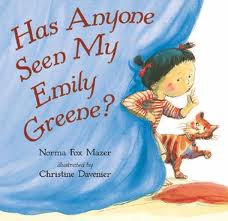 We immediately knew that Norma Fox Mazer's Has Anyone Seen My Emily Greene? would be our best book from this week's library haul (and there were a lot of contenders). First, because it's in verse. Maybe it's just because half of our audience is a two year old, but verse really appeals. It's also a lot of fun if you're the one reading aloud. And then there's Emily herself: "She's my barefoot dancer, my brown-eyed prancer; my girl who loves the colour red, and roses and rhymes and ribbons and bread." Don't you just love her already? We love that the story gives Daddy the spotlight for once, as he walks around the house looking for his Emily who is perhaps not as well hid as she imagines she is. SPOILERS AHEAD: He finds her just in time for lunch. I also like this book because it's by Norma Fox Mazer, whose paperback novels I devoured as an adolescent.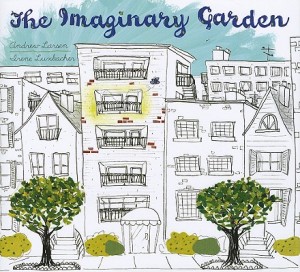 BONUS: Last week's Best Book from the Library Haul was Andrew Larsen's much-acclaimed The Imaginary Garden, but I didn't get a chance to post about it. The story is about a little girl called Theo whose grandfather leaves behind his beautiful garden when he relocates to an apartment whose only outdoor space is a rather bleak balcony. That her grandfather is also a painter, however, brings forth a rather inspired solution to the bleak balcony problem as Theo and Poppa begin to create a new garden on a blank sheet of canvas, beginning with the soil and growing the imaginary garden as you would an actual one.
Harriet liked the pictures, and the lines about the colours. What I like best about this book is that the considerable back story implied– that perhaps Grandma has died, that Poppa is no longer able to maintain his old garden, that he's getting older and his life has just become a whole lot smaller– is really hardly implied at all. The imaginary garden is the story, and it's a lovely one, made richer for the poignancy at its outlying edges. But that Larsen avoided making the life lessons the story, those old preachy predictable plot-lines that are so familiar, is a credit to him as a writer, that he gives his readers credit enough to discover the story for themselves.
Anyway, so you can imagine why I felt very honoured to be publishing a guest post by Larsen at Canadian Bookshelf today. You should check it out– it's wonderful.