September 5, 2011
QUARC
Throughout August, I had the joy of making my way through QUARC, a joint venture between The New Quarterly and ARC Poetry Magazine. The two estimable mags had decided to put their covers together, just once, and to play on the theme their combined names suggested. And so the issue was devoted to the place where art meets science, writers exploring this most unparticular point in an extraordinary variety of ways.
The whole package is absolutely stunning, with each side of the magazine featuring its own gorgeous colour spread, and so much bang for your buck– it's the size of a small city phonebook. I started with the ARC side, with Margaret Atwood's "Annie the Ant", which she'd written in childhood (and I think this is where EO Wilson got the idea for his novel…), and then a short essay on the story and what we can detect of Atwood's current preoccupations in her younger self. And then a wonderful selection of poems all about animals (this section has been entitled "Bestiary"), accompanied by illustrations of scientific specimens.
I loved Patricia Young's poems about the various disturbing ways that animals have sex. There is an excerpt from Joan Thomas' novel Curiosity, about a real life 19th century fossil hunter (who happened to be female), and then an interview with Thomas, with this wonderful passage: "Maybe we'd think more holistically if we'd retained the terms "natural history" or "natural philosophy" for what we now call "science". There is a narrative in evolution so huge that it boggles the mind. The deeper we go, the more we find to marvel at…"
Then a series of poems by Danielle Devereaux about and/or starring Rachel Carson. The full colour spread is a series of photos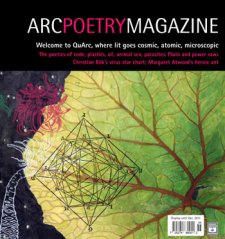 devoted to the narrative of obsolescence, which is more complex that we imagine– a circuit board from a 1960s computer, a dictaphone from the 1930s, and a cosmic ray machine. A PK Page glosa, Christian Bok as "language as virus", a fascinating essay by Aradhana Choudhuri called "Code as Poetry".
The New Quarterly asked its writers for "particle fictions", creative responses to the rather fanciful names of quarks: Charm, Strange, Up, Down, Top and Bottom (or Truth and Beauty). Following these selections is an interview with Alice Munro by TNQ and ARC editors about her short story "Too Much Happiness", about  the mathematician Sophia Kovalevsky. I loved Robyn Sarah's "The Scientist as Philosopher", Alice Major's mind-twisting "The Ultraviolent Catastrophe", Don McKay's "The Holy Ground of Plate Tectonics", Susan Ioannou's "Rocks and Words"– all right, I'm just quoting the table of contents now, but you get my point.
And then the exquisite "Ova Aves", which is a full-colour excerpt from the letterpress book composed of photographs of eggs from the Mount Allison University biology collection, and accompanying poems by Harry Thurston: "Osprey", "Common Loon", and (intriguingly), "Unknown", then an interview with Mount A. ornithologist Gay Hansen, curator of the collection, who answers a question I'd never considered: "What is an egg?". The issue ends with three poems by Zachariah Wells, which I adored, in particular "The Engineer Produces Intelligent Design". On eyes: "Shortsighted, longsighted, astigmatic/ crosseyed, walleyed, colour blind, macular/ degeneration, glaucoma, cataracts– that the sucker's ever work's miraculous."
Truth be told, there was lot in these pages that I didn't understand, but even truthier be told is that this is my experience often when I encounter a literary journal. And yet there was something marvelous about the concreteness of the ideas that still baffled me, and beauty in unpoetic language as rendered poetic.
QUARC is a wondrous object to behold, and I'd urge you to pick up a copy while you still can.