August 28, 2011
This Will Be Difficult to Explain and Other Stories by Johanna Skibsrud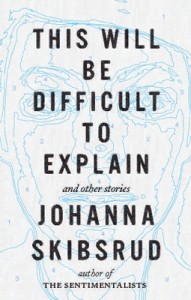 It's not quite what you'd explect, This Will Be Difficult to Explain and Other Stories, Johanna Skibsrud's first collection of short fiction. Though what we're meant to expect from Skibsrud is hard to tell exactly– she's the author who published her novel with an artisanal small press then won the Giller Prize, the recent overnight success with (now) four books under her belt, the poet whose novel concludes with a court transcript. Johanna Skibsrud appears to exist in order to defy our expectations, and so perhaps it's smart to just abandon them altogether, and take the stories as they come.
The book is slim, and the stories are diverse– presumably, the collection itself has been quickly assembled on the tail of Skibsrud's Giller fame. Nothing hasty about the assembly of the stories themselves, however, which display the precision some readers found lacking from The Sentimentalists. There are links between a few of them, and each one portrays a character who is "caught at exact point of intersection between impossibility and desire". Each one demonstrates, as described in the story Fat Man and Little Boy, "that things happen, not at any particular or recordable time, but at an indeterminate midpoint. Somewhere, that is, between  the verifiable and measurable tick and the ensuing and otherwise unremarkable, tock… in that incalculable interval of both space and time."
The collection reminded me of Mavis Gallant's Home Truths, with its stories of expats, continent-hopping themes, and also the ability of the narrative to telescope in and out of time. In many of the stories, young Canadian or American protagonists are bumbling their way through France, though they're never aware of the bumbling until after the fact. Skibsrud is good at "after the fact", her stories full of deft reveals and fitted with fantastic endings.
In "The Electric Man", a young woman reveals herself to a mysterious man who reveals nothing of himself; in "The Limit", a single father struggles to connect with his daughter and clings to a landscape which makes his own limits clear; in "French Lessons", which deals with the struggles of translation, Martha (who we'll see again in other stories) receives a startling glimpse into an old woman's loneliness, hears the message on the wrong beat, and responds with inappropriate laughter; "Clarence" is the story of a young local newspaper reporter who inadvertently interviews a corpse (and this ending was my favourite, I think); in "Signac's Boats", we meet Martha again, who's struggling with the immovable limits of her perspective (but then "limits are real"), even as she puts herself out in the world, and then she's stunned to realize that love is a new kind of limit, "that it simplified her, when she'd thought it would have made her more integral, more complex."
"Cleats" was my favourite story, I think, the one that really had me thinking about Mavis Gallant (and not just because of Paris). This long, wonderful novel in a story hinges over and over on sudden shifts of perspective, on carpets pulled out from underneath you. A mother's complicated relationship with a grown daughter as the mother struggles to make her way in the world after leaving her marriage. Another mother-child relationship is sharply depicted in "Angus's Bull", another mother who notices with unease that her child "notices everything". And then "Fat Man and Little Boy" is the story of Martha's friend Ginny who goes to Japan to visit an old friend, and finds herself strangely moved and unmoved by the Peace Museum at Hiroshima, by thoughts of her own uncle who worked at Los Alamos and is now dying of cancer, by the fact that nothing is ever one thing, that each singular moment contains the entire world.
Skibsrud's preoccupations become evident throughout this excellent collection– with limits, and how we fixate on them and/or reject them, with where we come from and where we go, with who are parents are and how we fixate on them and/or reject them, with history and the impossibility of fully inhabiting just one single moment. Clearly Johanna Skibsrud is as  at home in the short story form as she is throughout the rest of them, and my expectations have been more than met. I'm more intrigued by this author than ever before, and convinced that Ali Smith was onto something after all.