August 11, 2011
I'm a Registered Nurse Not a Whore by Anne Perdue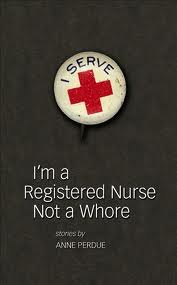 Anne Perdue's collection of short stories I'm a Registered Nurse Not a Whore is the answer to the question, "What should I read after the brilliance of Alexander MacLeod's Light Lifting?" Like MacLeod, her stories venture into darkness, their plots take you places, her characters offer a remarkable range of humanity– the alcoholic would-be dry-waller who lives in a rooming house, a teenage dishwasher, a single woman daring to get pregnant on her own, a newlywed couple overwhelmed by the pressures of home ownership. Perdue is funnier though, with a sharp dialogue reminiscent of Jessica Westhead's, and her stories also had these moments I've come to think of as John Cheever moments– the vat of wax! The barbecue! These incidents of horrid absurdity in the midst of the everyday. My husband had to ask me to stop gasping as I read this book, and I really haven't been able to think about a barbecue properly since.
I love this book, absolutely devoured it, which is fitting for a collection whose stories are larger than bite-sized. These are longer-than-short stories, with twists and turns and plenty of room for depth, and they're so well-paced, they read up fast. The first story hung me up a little bit with points of view that didn't seem consistent, but the rest were a smoother ride, the kind of short stories I'd recommend to people who might not know that they like short stories yet.
In "The Escapists", a couple at an all-inclusive Mexican resort display their complete lack of social graces, and receive awkward glimpses into the true nature of the bond between them. "Inheritance" makes clear the weak foundations on which suburban idylls are constructed, as a husband and father drives himself mad trying to live up to his own expectations. "Ca-Na-Da" is a novel in 45 pages, the story of a woman whose son is a stranger to her, and who finally has to face the consequences of a lifetime of not facing the world, or being honest with it (or herself). In "Pooey", a middle-aged woman whose family takes dysfunction to a new level decides to go against every rational instinct, take a leap of faith, and have a family of her own.
"I Serve" says the button on the book's cover, which was gorgeously designed by Anne Perdue herself. And her characters do serve, in the jobs that they do, and in the places that they've assumed for themselves in society. Yet there are moments, if only in their minds, –and some are impossibly small but still vivid– in which these character break free of the confines of those places, and dare to serve themselves. Here we the readers become the gasping champions of their glorious liberation.