August 6, 2011
What else is there to do in Paradise?
"…because what is there to do/ in Paradise but loaf beneath a tree,/and dream of other worlds?" –Bruce Taylor, "Little Animals" (from QuArc).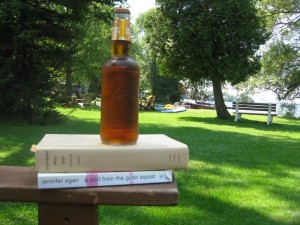 We had the most delightful vacation, mainly because we spent most of it reading, reading, reading. Also because Harriet got to roam free like a storybook child,  the weather was wonderful, we ate pie almost every day, no laundry was done for a week, the lake was warm and gorgeous, the company was fun, Harriet fell back in love with her summer friend from last year, and because the beer was always cold. We're not unhappy to be home, however, because here we can drink from the tap, there isn't sand in the bed, we can go walking not along the side of a highway, and we might end up eating something for dinner that isn't a frozen burger. It was a perfect week, and isn't doing seven days of nothing exhausting? So we're going to need another day or two to recover, and will probably have to go out for dinner tonight because no one is yet up to cooking. Not even a frozen burger.
We weren't as stranded book-wise as last year, because we'd brought lots of books to read. I started with Jennifer Egan's A Visit from the Goon Squad, which I polished off in a day and then urged into the hands of my husband who read it as happily. I was grateful for all the hype it had got, because I probably wouldn't have read it otherwise, and the read was splendid. I'll be definitely reading her back catalogue. Then I moved onto Gertrude Bell's biography Gertrude Bell: Queen of the Desert, Shaper of Nations, which has been sitting on my shelf for ages, and I've wanted to read to learn more about Bell and the history of the Middle East. Bell was your standard mountain-climbing, desert-mapping, Sheikh charming Victorian lady. I can't say that biography itself was exceptional (I think I've been spoiled from having read Victoria Glendinning so recently) but Bell was so exceptional, it would be impossible for her story not to be interesting.
And then I read Anne Perdue's I'm a Registered Nurse Not a Whore, which blew me away and merits its own book review even though I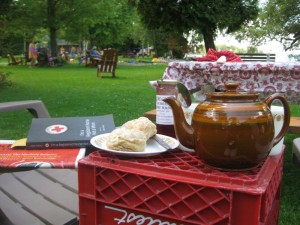 read it on vacation. I've met Anne a few times (and I loved her guest post at Canadian Bookshelf), but I wasn't prepared for how amazing this book was. I'd like to describe it as Jessica Westhead meets John Cheever, and also, what to read after Alexander MacLeod's Light Lifting. One of the very best books I've read this year, and I'm so thrilled to have encountered it, and to be able to recommend it to you.
I also read through my giant stack of periodicals, which had arrived after the mail strike. The stand-out piece of the bunch was Kathleen Jamie's "In the West Highlands.." (subscription required) about nature writing via the book  Ring of Bright Water (which I know from Alissa York's Fauna). About how stories of a pet seal living in one's bathtub lost their appeal with what readers learned from Rachel Carson's Silent Spring, which didn't necessarily take on the seal-living-in-bathtub phenomenon, but taught us that we are not nature's masters after all. "To care about animals now, we must do it from afar."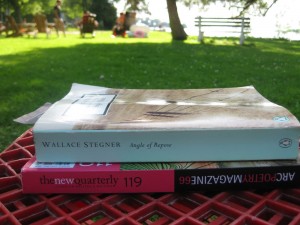 Which was a nice way to transition to the absolutely superb QuArc Issue, a joint venture by The New Quarterly and Arc Poetry, which celebrates the intersections of literature and science. And has Rachel Carson poems! Margaret Atwood juvenalia. An interview with Alice Munro! I'm halfway through the Arc side, and I'm finding it very difficult to put down. A bit unbelievable to have so much good stuff inside one (gorgeous) package.
Transition also to Wallce Stegner's Angle of Repose, which I bought at Bob Burns' Books in Fenelon Falls (a visit to which I've been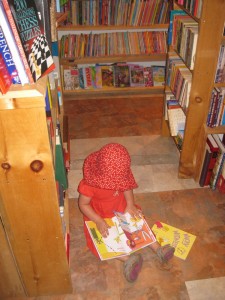 looking forward to for a year). I'm reading this book now and aren't in love yet, but I am firmly in love with Stegner and I like that it's the second Pulitzer Prize-winner I've read this week. Also at Bob's, Harriet got Wacky Wednesday, and Stuart got Terry Prachett and Ian Rankin.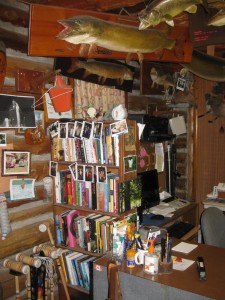 The other bookish thing that's gone on is that I made a cottage library over the past year. Made out of review copies I didn't have room to keep, and also books I've scavaged from boxes on curbs. Usually I scavenge less, and donate my extra books to the library or a booksale, but I enjoyed putting the cottage library together instead, which includes some great books and also some trashy ones, which any cottage library requires. I took a picture of one of the shelves, which is only a bit overwhelmed by the mounted fish above it.