July 14, 2011
Barbara Pym for afters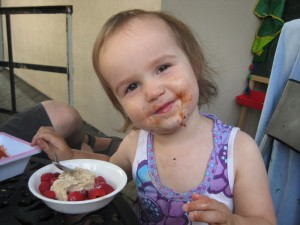 We've invented a new dessert! Or rather, we've re-christened a very familiar one. This all came about because Harriet had taken to walking around the house screaming, "Barbara Pym!" Which is a bit weird, because Harriet and I don't talk about Barbara Pym a lot, but I must talk about her to other people enough that the name is known (and I shouldn't be surprised– Harriet has had her photo in the Barbara Pym Society newsletter after all).
One night a few weeks back, when Barbara Pym mania was at its height, Harriet was coerced into her chair at the table with the promise that we were going to be eating Barbara Pym for dessert. Dessert turned out to be berries with ice cream, which has since become the Barbara Pym that we eat almost daily. Splendid local raspberries tonight with maple ice cream made this particular dish of Barbara Pym delightful.
Here is a photo of the world's dirtiest child devouring hers, having just completed her first course, which was mostly ketchup.