July 7, 2011
It Must Be As Tall As A Lighthouse by Tabatha Southey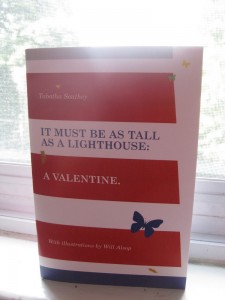 If you accused me of being a Tabatha Southey fangirl, I could hardly deny it, because I have made a religion out of reading her columns aloud over croissant crumbs on Saturday mornings. And I kind of intended on liking her new book It Must Be As Tall as a Lighthouse (published by few-of-a-kind outlet The Book Bakery) because we'd read her previous picture book The Deep Cold River Story and really enjoyed it.
But no amount of Southey-admiration could have predicted the response I got to …Tall as a Lighthouse when I read it for the first time, out loud, and it left my husband and I both with tears in our eyes (and note that he is English, and only cries once annually). I think this is a book that will appeal more to parents than to children, although Harriet likes to pick out familiar images from the pictures– her favourite parts are the penguin, the fish, and the shovel. She also likes the rhyme scheme, and I do too, as it puts me in mind of one of my favourite picture books, A House is a House for Me.
And perhaps it's because this is also a book about a house, about a house a mother will build her son, and she indulges all his impossible dreams–surrounded by ocean on all sides, in deepest outer space, near a good tobogganing hill, his window with a revolving view of jungle and desert (and with stairs made of eclairs). I particularly like "the window at which it is raining/when you just want to finish your book".
But the house keeps changing as the boy keep changing, and he wants different things all the time. And then the end, oh my, the end– "For you've taught me that anything Perfect/ is only a moment of time…" That love so solid (red brick) for something so ephemeral is as impossible as the house itself, and yet that love exists, the most straightforward thing ever. Perhaps the loveliest articulation of parental love that I've ever encountered, the entire book is something to cherish.