July 4, 2011
The O'Briens by Peter Behrens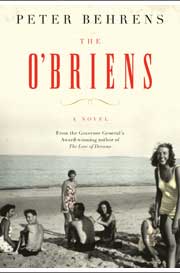 There exists considerable difference between "a good book" and "a great book", and lately I'd feared being so fixated on understanding the latter I had become unable to appreciate the former. Which would be a shame, I think, because there is pleasure in a good book, a big fat novel to while away a long weekend with. Losing the ability to enjoy such a thing would be like getting turned off timbits in favour of gourmet cupcakes. But once in a while it becomes clear to me that not everything needs to be placed in a hierarchy, or is another opportunity for a soapbox tirade. That we can simply have a donut and eat it too, in particular on summer weekends when the weather is so sunny, and heat lives on your skin along with a new crop of freckles. Though I will still stamp my foot for just a moment and say that this should have been a better book, but it wasn't, and I ate it anyway.
It means something, it does, that though parts of Peter Behrens' novel The O'Briens rang hollow to me, I read it with delight. Absolutely absorbed, and happy, and satisfied with its considerable bulk. The O'Briens is the sequel to Behrens' award-winning The Law of Dreams (which I haven't read; it stands alone), the story of Joe O'Brien and his siblings who escape their violent home in the Ottawa Valley at the turn of the century. The sisters are sent to a convent, and quite conveniently die of the Spanish flu years later, so we never hear of them again, but we follow Joe and his brother to California where Joe falls in love with Iseult, and then the rest of the book traces their story back and forth across the continent, and throughout the first half of the twentieth century.
The problems are this: characters are so unknown to each other that it's not clear that author even knows who they are; that the action always happens off the page, the characters choosing passivity all the time; that the O'Briens are uncannily linked to all the major events of their time; that the structure of the novel is stilted, and uneven; and that we're told far more than the writing actually shows until it's like being beaten over the head with a Leica camera.
But still, the pages kept turning, even as I rolled my eyes. Partly because the novel's events are so sweeping that I was swept along as well, and because some of Behrens' depictions of place were so vivid that I could smell the sea air. Because there are real moments of absolute, pin-pointed tension and/or tenderness that show Behren's would be a remarkable writer if his focus were narrowed. Moments do not make a novel of course, in particular if they're not very well hinged together, but the moments still stand out here. Also because it's been ages since I read a saga, and I've a thing for families as institutions, and I still think that America is a little bit glamorous (Happy 4th of July!), and Peter Behrens makes it so.
The O'Briens was a very significant part of my glorious weekend, a beach book even though I wasn't at a beach, but it made me feel like I was missing nothing. And yes, I suppose if The O'Briens wins a big book prize later this year, then we'll have reason to get on our soapbox about the sorry state of Canadian Literature, but until then, let's not take a good book as an affront. Let's just enjoy it, because it's July after all, and good books are how summer days are very best spent.