June 26, 2011
On reading and riots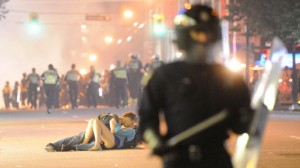 Last week,  a young woman who'd been photographed taking part in the Stanley Cup riots posted an online apology in which she first claimed to take responsibility for her actions, and then indignantly outlined the reasons why blame cast her way was disproportionate: mob mentality, that she'd only committed theft and not arson, the theft was for souvenir purposes, she'd been drunk–nice try, works for rapists– and besides, the whole thing was completely out of character. (I think she may have since had some PR consulting, however. The indignant bits of the post have been removed, and she now reads as genuinely sorry.)
As I read the post last week though, I thought about how much this young woman still had to learn about atonement. That perhaps she was victim of a culture that fools us into thinking public apology trumps being good in the first place. I thought of her remarkable sense of entitlement, how her fierce impression of who she was did not seem at all changed by what she had done. And if she was right, I thought, that her actions that night had indeed been completely out of character, then that was only because she didn't have any character.
Character, according to Joan Didion (in "On Self-Respect"): "the willingness to accept responsibility for one's own life."
I thought about the mob mentality which the girl claimed had swept her right up, and I sort of understood it. Though you've got to wonder about the kind of person who gets swept up in a mob in the first place. These are the kinds of people who think being alive is a spectator sport.
And I thought about how much I dislike the part of church services where a minister speaks, and the congregation responds in unison. How even fans at a baseball game singing the national anthem makes me cringe a bit, because in circumstances like this, we're speaking automatically, not thinking about anything we are saying. It's a different kind of mob mentality, and one that is benign, but then I start thinking about the Nuremburg Rally, like it's all a slippery slope. On the rare occasions when I happen to be in a church, I don't respond when called on. I listen instead. And the droning sound of everyone's voices is always a little bit terrifying.
Naturally, I am being melodramatic, but I was also thinking about reading. About how reading can be a communal experience, how it's an exchange between writer and reader, but mostly how the latter retains his individuality. The power of the reader to regard the text with a discerning eye, and to re-read so the text changes as he does. I'm thinking about how reading is the opposite of mob mentality, and that armed with critical skills to apply to the world, a reader is unlikely to be swept away by any such thing.
There are arguments against this, of course. Someone will always mention Mao's Little Red Book. But I'm still thinking that to read well is to learn to reside inside one's own head, and I think there's such tremendous value in that.