June 20, 2011
We love Postal Workers (in principle).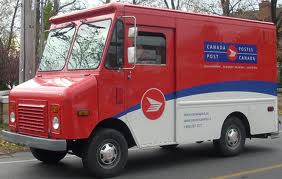 This morning, Harriet and I took a batch of cookies to the locked-out postal workers picketing at the Post Office at Bloor and Spadina. Not because we're supporters of labour per se (because really, our political leanings tend towards the middle of whatever fence we're sitting on), but because these are the people who bring us the mail. And admittedly, they don't always bring the mail so brilliantly– sometimes it takes two weeks to deliver a letter across town, I've had packages fail to arrive more times than should ever occur, and my letter-carrier is not the friendliest of women. Which is why it's hard to wholeheartedly put my support behind Canada Post, particularly as the price of stamps go ever up-up-up, but they've got my support anyway because I believe in the spirit of the thing. And because I'm wary of angry people who believe that it's too much for anyone to ask for a decent job with a living wage, just because they've given up hope for such a thing themselves.
I understand these things: that Canada Post continues to be a profitable enterprise, that postal workers' salaries do not come from taxpayers, but that pension programs are unsustainable. I understand that (from the UK example) that there is argument as to whether mail circulation has in fact fallen, and that the state of privatized mail service (from the Netherlands example) is abysmal to customers and employees. What I don't understand is this angry reflex of contracting out services being a viable option, which fails to acknowledge the economic drawbacks of a society in which full-time, decent-paying work is impossible to come by. I think workers have to stand up for their rights, and the rest of us ought to stand up alongside them (even those of us who, like the woman who called into Ontario Today last week bemoaning the sea cruises she will never get to take because she doesn't have a pension at all). Hence the cookies. Solidarity.
I miss the mail. I miss my magazines, and thank-you notes, and wedding invitations, and birthday cards, and paycheques, surprises, presents, books, and even Bell Canada's emphatic pleas for return of my patronage (though I'm never fooled by that font on the envelope that's supposed to look like handwriting). I miss going to check for the mail's arrival, and usually finding something great. I miss the Canada Post vans, which look so lonely in park at the end of my street, and I'd like to see them on the road again. I've been getting through these last mail-less week or so by imagining the massive postal backlog bundle that's going to await me at the end of it all. And I determinedly hope that the woman breaking her back to deliver that bundle to my door managed to succeed in getting what she wanted.