June 14, 2011
Mini Reviews: What I've been reading lately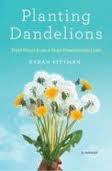 I put Kyran Pittman's collection of essays Planting Dandelions: Field Notes from a Semi-Domesticated Life on hold at the library after reading the Globe and Mail review of it. I was interested in the book because I'm also a stay-at-home-mom who does not exactly self-define that way, and who feels a bit unsuited to the stereotype, however perfectly happy I am in this life. I also liked the way the author celebrated blogging in this profile. And as I read the book, during the whole of last Sunday when I was sick in bed, I also loved that this is a blogger-turned-author who can really write. (Though she's got literary pedigree.) It was a wonderful collection of essays, and I particularly enjoyed her reflections of new parenthood from the vantage point of ten years down the line, her sympathetic examination of the attachment-parenting, organic-fooding, toddler-breastfeeding Mama she used to be, fierce in her judgment of others (and herself)– the perspective was refreshing, and illuminating. But the book is about more than that– though I was wary of her "party-girl turned housewife" persona (mainly because I was never a party-girl, and have a natural distrust for anyone prettier than I am), she kept it mostly understated. I loved her piece on raising boys, on her family's financial struggles and its effect on her marriage, on raising her kids in the American South and the contradictions inherent in their pride in the place, and her own contradictory experience of being a Canadian in America, on her unwillingness to admit where she belonged. It was a great read.
Before that, I'd read Rachel Cusk's latest novel The Bradshaw Variations. Rachel Cusk is one of my favourite authors, but we have an
odd relationship, her and I. First, I'm never entirely sure that I'm enjoying her novels until I've finished one. Or perhaps I mean that "enjoying" is not what one does with a Rachel Cusk book, which is also the reason I've never been able to write a proper review of one either. Instead of being critically attuned to the text, I have to turn myself off and be completely immersed. It is in this way that she's like Virginia Woolf– you've got to let the text take you where it needs to. Sometimes, the prose is so heightened (also like Woolf) that it gets to be too much, but then you realize that realism was never her intention. The story is beside the point, which is annoying, but then this is Rachel Cusk and the point is so so important, never mind the story. Anyway, I loved it, but perhaps I have to. What I don't have to, however, is to point out that the second-last chapter of this novel is one of the best short-stories I have ever read. Disturbing, dark and hilarious, and absolutely perfectly executed.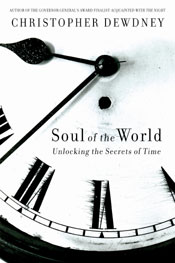 The Soul of the World by Christopher Dewdney has been sitting on shelf for years. And no wonder– it is a book about the nature of time. Which is not something I've ever been moved to pick up, but nor to get rid of either, though I wondered as the dust-jacket became particularly dusty. But I am a girl who came of age on A Wrinkle in Time, Back to the Future, Tom's Midnight Garden, A Handful of Time etc. And because I'm reading by to-be-reads from A-Z, I've made it to the Ds, and it's time for Dewdney now: the book was wonderful. I rode the subway home from the NMAs on Friday whilst reading about the invention of hours, minutes, and clock faces. I loved the line that we are to time as owls are to air. I loved the paragraphs that were completely indecipherable to me, and then went to say, "And here's where things get complicated…" Or, "Here's where things get weird". And it was all weird, because it's about physics, wormholes, De Loreans, photography, the telephone, movies, seasons, Toronto, our expanding universe, the past, future and the present. Which is now. No, now. Absolutely ungraspable. As is so much that I encountered in this book, but didn't worry too much about the details, and therefore just enjoyed the ride. Dust or not, this is a book I'll be keeping.