June 5, 2011
The Forgotten Waltz by Anne Enright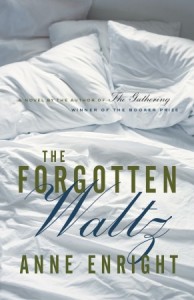 "You think it's about sex, then you remember the money," notes Gina, the narrator of Anne Enright's fabulous new novel The Forgotten Waltz, and that statement just about sums up the book. Though it's hard to forget about the money, the embarrassment of riches, real estate fortunes (characters who feel inadequate about not owning four houses)– it's there from the very beginning of the novel, whose story unfolds from the turn of the century with Ireland's economic boom, and comes crashing down with its eventual bust (which I, with my minimal interest in economics, learned about in this fantastic Vanity Fair article "When Irish Eyes Are Crying").
The Forgotten Waltz is all about real estate, in the tradition of Howards End. And like The Last September, another Irish novel which I read last week, a personal story is cast against a national backdrop. The personal story is about another kind of real estate, about taking what isn't your own. Still suffering from the fallout of her extramarital affair, from having fallen in love with another woman's husband (who is somebody's father too), Gina recounts the story of her own journey from boom to bust. The story, however, just like the story of the economic boom, is hardly straightforward: "I can't be too bothered here with chronology. The idea that if you tell it, one thing after another, then everything will make sense./ It doesn't make sense."
Enright won the 2007 prize for her novel The Gathering, though I found her memoir Making Babies and her short story collection Yesterday's Weather much more resonant. The way these two books zeroed in on domestic detail, on objects and what her characters did with them, and Enright's doing that here once again. Quite different from the focused detail itself, however, is her conversational, meandering prose, with issue-skirting and repetition, and the effect is to cast a spell of its own. And how this woman can craft a sentence: "The Danes who did the refurbishment put in irrigation the way you might do the wiring so the place is a thicket, and though I am cynical about these things (the idea that a few plans makes us more 'green') I even voted for the canaries, at some meeting, only to be outvoted on the grounds of canary shit."
Enright is funny, in particular when considering tender things, as anyone who's read her mothering memoir is already aware. She writes with more sympathy than Rachel Cusk, whose writing is similar (I just read her The Bradshaw Variations, and there are all kinds of connections between the two novels.). Enright is fully attuned to the strange dynamics of modern society and all its accoutrements– the mobile phone text messages that are integral in Gina and Sean's affair are perfectly worked into the novel's weave. And she is careful to include more traditional methods of obsessive love, Gina sitting outside his house at night, for example, watching the lights inside go off one-by-one.
Each chapter is titled with the name of a pop song, whose musicality complements the nature of Enright's prose, but also serves to contrast perceptions of love with its more sordid realities. Sure, "It's in His Kiss", agrees Enright, but then she examines what "it" is exactly, and the possibility that one kiss can take a character places she never intended to go and won't be able to turn away from.