June 1, 2011
The Vicious Circle reads: Last Night in Montreal by Emily St. John Mandel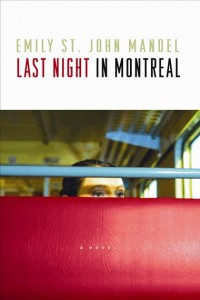 All forecasts called for things to get really vicious last night as the Vicious Circle assembled to read a book that nobody seemed crazy about. The book was Emily St. John Mandel's Last Night in Montreal, which we were prepared to go a little bit easy on, considering it was a first novel, but still, the book was hard to take in places. Viciousness did not ensue, however, mostly because the book failed to find a fervent defender for the rest of us to rail against.
It was thought that this was the kind of the book a character in the book might have written (and these were the kind of characters who like to sit in cafes and talk about the art they're not making). We thought that this book's author was robbed by her copy-editors, who did an atrocious job (and don't even get us started on the semi-colons). And also by editors who would have picked up indescrepencies such as how Eli knew about what Lilia did when her hair got too long, except they weren't together long enough for her hair to have got too long more than once. Or there wouldn't be a ship in Montreal harbour in the dead of winter.
Montreal didn't seem realized to us here. Two of us thought that Elise Moser's novel As I Have Loved and Hidden It was a much better realized version of this novel. One of us though that the author was trying to cast the same spell that Claudia Dey cast in Stunt (with tightrope walkers and all) but she failed to. We failed to engage with the characters. And though Mandel did a good job in places of creating suspense, the big reveal was a bit anti-climatic. We didn't get a sense that these were characters who lived in the world (which might have been okay if the spell had worked, but it didn't). We thought that the idea of Montreal as a city unpenetrable to French non-speakers wasn't realistic, we wondered about Eli taking travel advice from a woman who hadn't lived in Montreal since she was 9, we didn't buy the idea of Montreal as a sinking garrison, as a place where a dead language lives. It also made no sense that Eli only spoke English, because most PhD programs have a second-language requirement (and surely an aptitude for languages is an aptitude for languages, whether dead or alive). These were the practical considerations that kept bogging us down– like who was paying Christopher to drive around America for years and years? Or why was Michaela so consumed by her father's accident when she'd lost him so many years before it.
In lieu of viciousness, we took up eating cheese, and then conversation drifted away and never managed to come back. Which was okay. It was the end of a hot summer day, and the sun was down, the air was cool. It seems every home we gather in is a particularly lovely, comfortable one, though we're not sure if this is just a coincidence, or we make it that way. Nevertheless. We ate cupcakes, and strawberry pie, and we kept on drinking wine, and we kept having to lower our voices because the windows were open and we didn't want to horrify the neighbours.