May 30, 2011
Wild Libraries I Have Known: Binbrook Library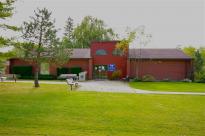 There are only so many wild libraries one person can know, so it is fortunate that some lovely writers are going to continue this series now that I've exhausted my own supply of library loves. First up is my dear friend Rebecca Rosenblum, award-winning author of Once, whose second story collection The Big Dream will be published in September.
I have to admit that my original draw to the Binbrook Public Library was the very unliterary plastic slide. I was about 4 I suppose, and this indoor slide, made out of what seemed to be orange Tupperware, was thrilling. Even better, the slide could be inverted to form a very safe version of a teeter-totter. It was hard for a four-year-old to flip this heavy thing, even with the help of her two-year-old brother, but we could do it—a very satisfying feat.
So from a young age, Binbrook Library was always challenging and rewarding me. I'm not from Binbrook—I'm from the next town over, where there's a very nice, if slightly smaller and less modern library. That one is in a house, and when I finally went there, as an older child, I was concerned that it didn't look like a library. Binbrook Library will always remain my prototypical library, my library-of-the-mind, and it is a good standard. Opened in 1982 (it replaced an older structure that my parents apparently visited in that pointless time before they had kids), the one-story rambling building had lots of windows, 100% wheelchair accessibility that necessitated an excellent ramp I liked to run up and down. There was also a large, light-filled open area for the afore-mentioned orange slide/rocker, as well as story times, plants, and two large decorative quilts hanging from the wall. The quilts were made by children at the local school.
I did eventually take an interest in the books in the children's section, though I was especially keen on how many I might be permitted to take home. The librarians and pages all seemed to know who I was, and always greeted me as Becky, though I did not have my own card until I was older. An oblivious child, I did not know who they were until I was much older than that.
Obvious to any former country dweller would be that my parents always drove me to the library—there was no other way for a rural kid to go anywhere. So I guess they were there when I was running up and down that ramp, but I don't remember their presence except for the final check-out battle over what (how much) I could take. I was sometimes left for library programs and on other occasions just to read. I guess that's a 1980s thing parents don't do now, but seriously, the Binbrook library was the safest place in the world.
A favourite library memory, though only loosely tied to the actual library: I was bolting across the gravel parking lot one day, anxious to get inside, and my father waved at an elderly woman walking down the drive from the retirement home behind the library. Then he turned away to do or say something, and when he turned back, she had disappeared. He sent me into the library while he investigated; it turned out she had fallen into a long-grassed ditch, invisible to the drive or the parking lot. She was quite embarrassed when my dad retrieved and righted her, but better than remaining as she was in the grass.
It was a good bit more country back then. Changes since I moved away include subdivisions, and a school friend of mine who is now a librarian walks from the subdivision to work everyday—I haven't been back in a while, and can't quite picture that. The other change is that the Wentworth system, which the Binbrook library was part of, has now been folded into the Hamilton one. I wish they'd done that when I lived there; when the two were separate collections, if you wanted a book that wasn't in the Wentworth system, you had to physically go into Hamilton.
To be honest, I was scared of the big central library in downtown Hamilton—it not only had more than one room, it had half a dozen floors on which to get lost in. Worse, none of the librarians knew my name, which (obviously!) precluded my speaking to them. In grade school, I only went there for extremely demanding school projects; I continued to use the Binbrook library for most of my personal and scholastic reading needs well into my teens. I was quite happy to wander the Dewey-decimal aisles and take my research materials to the long study tables behind the librarian's desk. As a little kid, I had only wanted to tally up how many, but as I got older I remained convinced that more is better when it comes to books—more resources, more ideas, more points of view. Binbrook's collection was (and, I assume, is now even more) substantial for a small-town library, but eventually my schoolwork got more specialized and I had to go more often to the city library, or even subject specific ones at McMaster University. I had the Dewey Decimal system almost by heart by that point, and the discovery of the Library of Congress system was one of the many things I held against big strange libraries.
Of course, I eventually learned to use, and even love, a wide variety of libraries. But none of the others ever felt quite like home.