May 11, 2011
Mini Review: All the Little Living Things by Wallace Stegner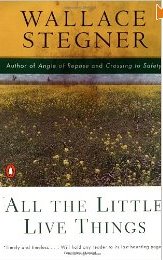 I was so conscious of the fiction's construction in Wallace Stegner's All the Little Live Things, but only because I was so amazed that Stegner had constructed something so realized. How had he done it? And it's not often a reader can ask these kinds of questions and not be pulled out of the story, but the spell was never broken here. Stegner pulls of other impossibilities: a story about the land and environment as a symbol, but the literal facts of the land (and those who inhabit it) are never minimized for this; a sad, sad story so invested with hope, and love; a masculine book full of senses and emotion; a book firmly set in its time but which does not feel remotely dated fifty years later.
All the Little Live Things is the story of the Allstons, a couple who, after the death of their son, escapes the world by building their own little Eden, a paradise in the California wilderness, though the world creeps in– poison oak, gophers, snakes and rotten neighbours. A young man begins camping out on their property, embodying the spirit of 1960s' youth rebellion (and having a passing resemblance to the couple's late son). The Allstons befriend a neighbouring woman who they discover is both pregnant and dying of cancer, the competing forces within her body a microcosm for forces at play in the community, and society at large.
It's a heavy book, but a brilliant, absorbing read, with wonderful moments of humour and insight. Wonderfully plot-driven as well– Stegner certainly does a fantastic ominous. He's was a masterful writer who doesn't receive a lot of credit these days, and I'm so grateful to have discovered him.