May 3, 2011
Wild libraries I have known: Lillian H. Smith (TPL Branch)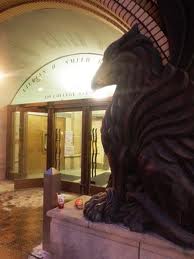 Believe it or not, the history of the Lillian H. Smith Library stretches way back to even before it was a wild library I had known. (The following information is courtesy of the library's website.) The library opened in 1922 as the "Boys and Girls House", and was the first library in the British Empire devoted exclusively to children's literature. In 1995, the Boys and Girls House closed, opening a few months later as the Lillian H. Smith branch in its current location at the corner of Huron and College Streets. Lillian H. Smith had been head librarian of the children's library from its inception, and had a fascinating career as a children's librarian and champion of librarianship (which you can learn more about at this website devoted to Smith, to her work, and to the history of the Boys and Girls House).
My own history with the Lillian H. Smith Library begins only last fall, though I had been there a few times previously to see exhibitions at the Osborne Collection of Early Children's Books. But I became a regular patron once Harriet had outgrown the Spadina Road Branch's baby program, and we were directed to Lillian Smith for their Monday Toddler Time. I was doubtful anything could replace Spadina Road in my heart, and truly, nothing ever could, but Lillian Smith comes awfully close. Because there's a gryphon at the door, and a light fixture inside that hangs down over four stories, and we get to ride an elevator when we go there, down to the big room with the stars on the door. Which is significant because there are stars on the door, but also because there's a door at all, which means that Harriet and her toddler comrades can run around in circles without danger of escaping, and we all partake in a half our of great stories, songs and games led by Joanne Schwartz (whose new book City Numbers is launching next week at Type Books).
Lillian Smith also holds a special place in heart, because it has the largest selection of children's books I've ever laid eyes upon. We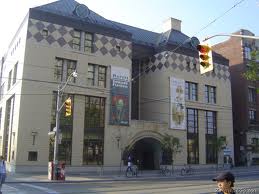 stick to the west side of the building where the picture books are, but I've run after Harriet through the east side enough times that I'm familiar with the chapter books too (paperbacks on spinning racks, which remind me of my library youth). On the picture book side, we always check out the selections on the featured book shelves to get our mitts on brand new books so crisp their spines haven't even cracked yet (and/or their flaps haven't even been ripped).
But I also love the breadth of a collection that has been growing for 90 years (and still has the old "Boys and Girls House" stamps on the inside). I used to think that vintage children's books were only fun for hipster parents, but Harriet proved me wrong with her love of Marjorie Flack's Angus books, Virginia Lee Burton's Choo Choo, Robert McCloskey's Make Way for Ducklings, Curious George, Madeleine, and old-school Dr. Seuss (The Smeetches, and current obsession McElligott's Pool).
Plus new-school obsessions: we LOVE Charlie & Lola, anything by Mo Willems, Marthe Jocelyn, Marisabina Russo, Ruth Ohi, Sheree Fitch, Mem Fox, Shirley Hughes, and Marie Louise Gay. Etc. etc. Because there are shelves and shelves to love. And I absolutely love that we can visit Lillian H. Smith so regularly, and the collection will never be exhausted– there is always something new to discover.
This library is just one of the reasons we're so happy to live where we do.