April 25, 2011
Still mired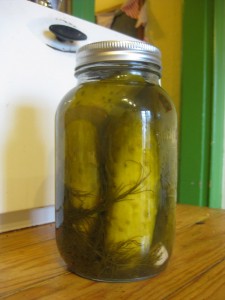 Forgive me. Still mired in the fat books, and then got doubly mired in a book that was thin but oh so dense– Chinua Achebe's The Anthills of the Savannah for my book club meeting tomorrow night. So now I'm back in the Cheever (and oh, I love this book. I'm not far in yet, but these stories a wonderful to read. A bit bleak, yes, particularly with the Didion the week before, and he's not afraid to break a child's neck, but you've got to admire that). And then will return to any programming at all.
In other news, have I told you about my new gig at Canadian Bookshelf? Plans are afoot and they're wonderful. Or that Heather Jessup came over to my house last week to deliver a jar of pickles (which, by the way, is the precise recipe for making me fall in love with you [oh, and Heather has a book coming out this fall with Gaspereau Press, and I'm very excited to read it])? Or that we've un-baby-proofed our apartment, and I have a desk again (with a couch right beside, so I have the option of typing whilst reclined, which is usually my preference). Or that we had a really lovely Easter weekend, and it was nice to drive home from visiting my parents and have it not be in a snowstorm. I also watched the Alfred Hitchcock film Beyond the Shadow of a Doubt, which was marvelously bookish and self-referential in a way that Scream thought was original fifty years later.
Anyway, as we don't do blog posts about why we're not writing blog posts, less of this, and then to bed, to bed, to bed.