April 18, 2011
We read Room Magazine 34.1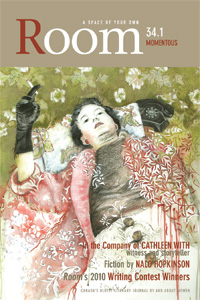 I wasn't planning to make a project of this, but I encountered so many wonderful things as I read through the latest issue of Room Magazine that I really had to share them. The cover, first of all, whose colours go so perfectly with the title, and this eye for detail is reflected in the design of the magazine all the way through. And it's the case with every issue of Room, which is a feminist magazine run by a volunteer collective of women in Vancouver (and used to be called A Room of One's Own, but decided to open up onto the world more).
Issue 34.1 is themed "Momentous", and it's their contest winners' issue too. Though it reads more cohesively than you'd expect from that, and I forgot about the contest until I finished reading the magazine and reread the cover. I enjoyed Amy Kenny's story "Chocolate Season" about a woman in an East Coast tourist town carrying on the family business after her father's death. The full text of Chantal Gibson's "The Mountain Pine Beetle Suite" is available to read, and it's great, brutal, subtle and scary. And "The Goddess of Light & Dark", which won the creative non-fiction category and one of the best things I've read lately, full stop, about the education that comes when the author becomes a clinical teaching associate at BC Women's Hospital, a model and guide for students learning how to do pelvic exams: "Maybe revolutions are about knowledge".
Sigal Samuel's "Love and Other Irregular Verbs" is by a woman whose father has seen the women he's loved as a portal to new languages, and how she learns these languages to erase the distance between them. I enjoyed the interview with Cathleen With about how her experiences teaching in Northern Canada have influenced her fiction, and the ethics of the decisions she's made: "It's about bearing witness; because there are many potential storytellers up there, and yet a lot of these kids are too busy being in it to sit down and write about it."And I liked Wendy Marcus's "Just John" about a mysterious neighbour and his legacy of plum trees.
I tried to read Nalo Hopkinson's "Chance" but just couldn't. I mention this only because Nalo Hopkinson has enough readers that she won't even notice this one missing, but more because I am fascinated with my inability to read science fiction. I have so little patience with unpacking these stories, when I can find it for so many other works/genres. It is like the fantastical elements of these stories construct a barrier between me and the meat of the story, and I just can't be bothered scrambling over it. Part of this is definitely my fault, but it's also that there are some kinds of readers we were never meant to be.
The issue ends with several pieces that resonated with me: Laurie D. Graham's poem "Say Here, Here", about words, place and the depths beneath your feet; Christy Ann Conlin's "Album", which whisks its reader across decades and a continent; and "Six Reasons I Miss Being Pregnant" by Anne Panning and not just the "A free pass–however briefly– to wear giant corduory overalls". And then Room's backpages, which I always enjoy, which gives me the sense that as a Room reader, I am most certainly part of a wider community.