April 5, 2011
Wild libaries I have known: The Himeji International Exchange Center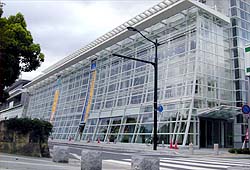 It was one of the very best times of my life, the year and a bit we spent in Japan. The sakura bloomed every day, we bullet-trained our way towards various adventures, lived in a city with a castle at its centre, found our employment immensely gratifying, made lifelong friends, and decided we'd get married. (Not all of this is actually true, though the castle is, and so are the friends, and other things. It was much better in retrospect than it was at the time, but even at the time I knew that we'd treasure it for ever, it was all so thresholdy, and I have never been so young.)
We'd been prepared for culture shock, though that was about as useful as being prepared to have a baby. What I hadn't been remotely prepared for was the experience of becoming illiterate, of having print disappear from my life. And of having books suddenly be rare. Japan is home to some of the best bookstores I have ever seen, stocked with books so gorgeous you want to stroke them, and I couldn't read a single one. It baffled me. I kept going into the bookshops anyway, examining these books as though were bound up in a code I might crack– I never did.
I came to Japan after spending two years in England, where I'd buy 3 for 2s at Waterstones on my lunch break multiple times a week. In England, I got books free by buying hearty cereals and using a code printed on the inside of the box. I basically smelled like a charity bookshop, and that was fine with me. And then all of a sudden, I couldn't read anymore, and it was like the time I was in Austria and the only book I could find was The Assassination of Marilyn Monroe, except this time, I wasn't just passing through.
Which brings me to the Himeji International Exchange Centre (which I think was called the Himeji International Association when I lived there, just to be pedantic). It wasn't very wild, actually, and it wasn't even a library, though it was hush hush, all the time. But it had a library, with an English section that wasn't particularly large, and it was a treasure to behold. And once again, I don't remember the books I borrowed from there (except for Orientalism, and Amrita by Banana Yoshimoto, and Underground by Haruki Murakami; okay, I do remember a few), but I remember the joy of the selection, and how much more I valued books and reading when the experiences weren't so readily available.
It was a same thing with the pile of books at the top of the stairs outside at staff room at the school we taught at. You'd add your pile of books to it when you left the country (unless you were me, in which case you'd spend hundreds of dollars sending battered Penguins home by sea). I remember reading Hope in the Desperate Hour by David Adams Richards ("a bit depressing", my friend warned me), and Camille Paglia's Sex, Art and American Culture.
I would have read anything, and I mostly did. (We also bought English books from amazon.jp, and trekked into Wantage Books in Kobe to buy another Margaret Drabble). I read trash, I read Manga, I read nonfiction, I read books I didn't understand, and ones that lulled me to sleep in their predictability. Any book was always, always better than no book, which is a really interesting lesson to learn, but I am really most grateful for these libraries for keeping me from having to learn it the hard way.
Further: