March 29, 2011
Good Food For All: The Stop Cookbook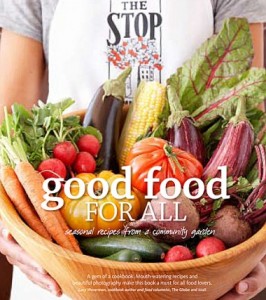 Now that I can count down the weeks to asparagus season with the fingers on just two hands, I am thinking about eating springtime, and then summer and fall. It was around this time last year that I purchased Good Food For All: Seasonal Recipes from a Community Garden produced by The Stop Community Food Centre in Toronto, and it set us on a delicious course of seasonal eating in 2010. My only complaint about the book is that mine has fallen to pieces, but I suspect this is an indication of how good the book is rather than any of its deficiencies (save for binding).
Courtesy of Good Food For All, we have feasted on roast vegetable burritos, vegetarian shepherd's pie, multi-grain supper salad, chicken burgers, beef stew, asparagus quinoa with peas and feta, stuffed swiss chard leaves, seared rainbow trout with greens, heirloom tomato salad, and strawberry bread. The strawberry bread in particular was the stuff of legend, and I am looking forward to strawberry season so I can make many of a loaf of that heavenly stuff. Once, I had to get rid of some beets and our dinner was an unappetizing sounding "beet bake" that turned out to be delicious. Another time, however, we had a tofu baked-bean casserole that was less so, but I feel like we should have known better. Otherwise, Good for For All has never led us wrong.
The book has beautiful photography, straightforward recipes and instructions, and follows the Stop's educational mandate in such a useful fashion– a page devoted to different kinds of grains and how to cook them, for example, which was one of the first to fall out of my book. And I am happy because the cookbook is listed on The Stop's website as "The Stop's First Cookbook", emphasis mine, because I'll be first in line to pick up their second.