March 21, 2011
My Adventures in the Land of Books
Our last vacation was in the land that books forgot, so I was excited to get away to England, the storybook centre of the universe.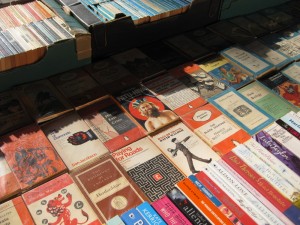 Whenever we go to England, we always come back with enough books to fill another suitcase (especially that one time), and this trip was no exception. Though I had less luck in the charity shops than I was hoping for– they used to be rife with 1960s Penguin Paperbacks but they're all gone now, and now all that's left are copies of Jenny Colgan novels that came free with a copy of Cosmopolitan. And the children's books picks were rubbish in the charity shops, but I suppose I can imagine why the second-hand children's book market might have its challenges.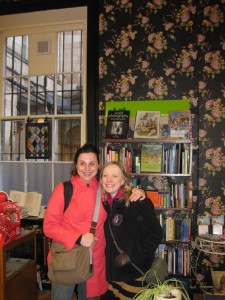 The only books I ended up getting in charity shops were I Am Not Tired and I Will Not Go to Bed by Lauren Childs at the Oxfam in Ilkley, and Tyler's Row by Miss Read at The Panopticon Shop in Glasgow (which is a charity shop to rebuild a theatre that burned down in 1938, and we sort of got turned off their cause when they made Stuart wait out in the rain with the pram). I also got a Brambley Hedge treasury at the Oxfam in Fleetwood.
And though I didn't end up buying anything, the Oxfam Bookshop in Glasgow was beautiful–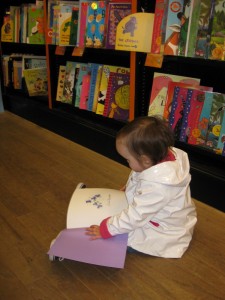 much more boutique than charity shop. It was in the same square as the massive old building (now vacant) that used to house Borders, and I was informed that the loss of that store had been a tragedy– it had been a wonderful place. We also had a good time in the Waterstones in Glasgow, which looked like not much from the outside, but as I rode the escalator down to the lower level, revealed itself to have this hidden middle section between the two floors, sort of like the half-floor in Being John Malkovich, and also a coffee shop, with made my reluctant partner in bookshopping a very happy man. We found the children's section, and Harriet hurled picture books, and then ate part of a sandwich that she found on the floor.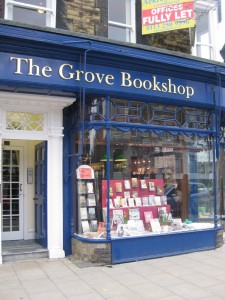 I was thrilled to discover The Grove Bookshop in Ilkley, because independent bookshops are few and far between even in England, and also because this one was bustling. The store has gorgeous window displays, a great selection, and seemed like a thriving community hub. There was a line-up at the till, and another woman there to pick up her special order. I delighted in the selection of Penguin merch, and bought a tote bag, and also Old Filth by Jane Gardam (and now I have to read The Man in the Wooden Hat). I also like The Grove Bookshop in Ilkley because their website boasts a "fast and efficient ordering system [which] means the vast majority of customer orders arrive the following day."
We spent our second-last day in London, and had scheduled bookshops a-plenty. I was so happy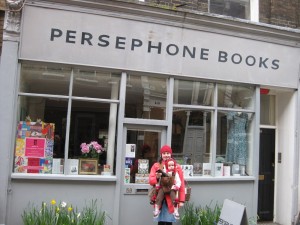 to have a chance to visit Persephone Books, and actually, I'm grateful that budget constraints forced a limit of one book only, or else I would have bought the place out. Their books are so lovely, the shop so homey (but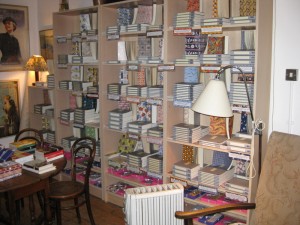 crowded! With Persephone books! Can you imagine anything more wonderful?), and I wanted to paw everything. To keep my fellow-travellers happy, I'd pre-selected my purchases so there was less browsing than you might imagine, but if I'd started, I never would have left and would no longer have a family.
I also enjoyed visiting the London Review Bookshop, which was not too far away.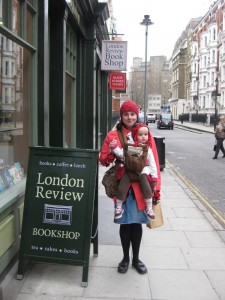 The Cake Shop proved disappointing, sadly, as it was too small to accommodate Harriet's stroller or Harriet, and was crowded with people discussing existential things who probably didn't want to listen to Harriet talk about her bum. I bought The Tortoise and the Hare here, though I'd been debating another Rachel Cusk instead, being that day in the thralls of her book The Lucky Ones. And I am a little bit sorry now that I didn't get the Rachel Cusk books, because she's so great, and I never found another of her novels in a bookshop the rest of the time we were in England.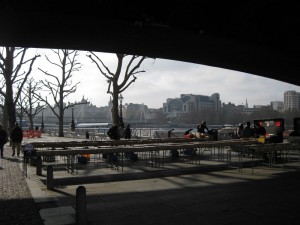 Under Waterloo Bridge, I was happy to see the booksellers again, as well as a bit of sunshine. I didn't buy anything because nothing immediately struck my eye, and because Stuart and Harriet were being very patient but I didn't want to push them too far. I am sure if I'd browsed just a little while longer, I would have come up with one treasure or another. (I also wonder if the fact that I found less treasures amongst the used books this trip is because it's now been a few years since I bought everything Margaret Drabble ever wrote.)
We spent the rest of our London day at The Tate Modern, and I enjoyed exploring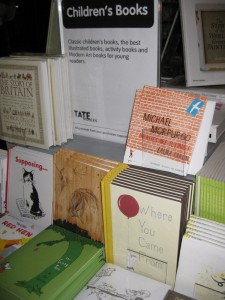 both its bookshops with their wonderful selections of children's books. It was especially exciting to see Sara O'Leary's beautiful Where You Came From on display, amidst some fine company.
We spent our last day in Windsor, where I tried and failed to find a bookish treasure in the charity shops (including a wonderfully stocked Oxfam Bookshop, but everything good they had, I had already). We stopped in at the Windsor Waterstones and bought Harriet The Gruffalo and Alfie's Feet, and I tried and failed to find a Rachel Cusk novel to buy, just as I would do the next day at the airport. Regrets, I've had a few.
But not too many. Our trip was full of bookish wonder. I arrived home with a most respectable stack, and what's more, I've since read each and every one of them.