March 15, 2011
Canada Reads Independently 2011: Update 3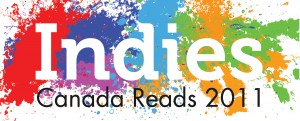 I'll admit that Canada Reads of all stripes have lacked the momentum of previous years, but this did not mean that I loved my reading any less. I was happy to have saved for last my favourite pick of the five, which was Lynn Coady's Play the Monster Blind. And I'm even happier to have enjoyed all five books immensely, and I think they complemented one another in delightful ways.
Buried in Print enjoyed Play the Monster Blind also. She writes, "Obliquely contrasting emotions and experiences characterize many of the stories in this collection: euphoria and desperation, celebration and regret, stagnancy and propulsion, triumph and loneliness. It's an unsettling but also powerful device…"
Rebecca Rosenblum read Mavis Gallant's Home Truths. My favourite part of her review was: "Sometimes it feels like a story is just a random collection of notes and memories, but you get to the end and the weight on your brain is, in fact, story-like. How does she do that?" She notes the humour in these stories, which I claimed didn't exist in my previous CRI post. And I suppose Rebecca is probably right, but it's just not the kind of humour that has me laughing hysterically in bed over a reference to day-cake.
So I liked the Lynn Coady best. What say you? Email me at klclare AT gmail DOT com with your top Canada Reads Independently Pick, and we'll see who came out on top this year. And feel free to send in your choice even if you haven't read all the books, because every book deserves a little bit of love.