March 10, 2011
I Think I Love You by Allison Pearson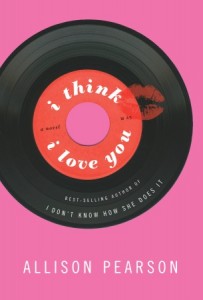 20 years late, as usual, I fancied David Cassidy in 1992 when The Partridge Family reruns were played on Much Music, and I am always happy to have "I Think I Love You" in my head. So that is one reason I wanted to read Allison Pearson's latest novel, and also Michiko Kukatani liked it, and so did Maureen Corrigan. I'd never read Pearson's first novel I Don't Know How She Does It, but the premise of this one really appealed to me.
That premise is Petra, a thirteen year-old girl growing up with South Wales in the early '70s, mad about David Cassidy with a passion only teenage girls are capable of. She and her friends collect his posters from The Essential David Cassidy Magazine (which come broken into pieces– there is a particularly disquieting scene involving Cassidy's beheaded torso and unbuttoned jeans), kiss the posters with vasalined lips, practice writing their Mrs. David Cassidy signatures, and love their idol in an absolutely, utterly true way that Allison Pearson is insistent about taking seriously.
Meanwhile, we get alternating chapters from the point of view of Bill, fresh out of university and working as a rock journalist, or so he tells his girlfriend, when really he's working for The Essential David Cassidy Magazine. Composing the monthly letters from David that Petra and her friends pore over hoping to find personal messages of undying love embedded between its lines.
Bill and Petra's paths collide at a David Cassidy concert in London at which Petra's friend Sharon nearly gets trampled. Twenty-five years later, they meet again, when Petra wins a chance to meet the former teen idol in Las Vegas in a concert sponsored by a magazine Bill runs. Petra is now a professional cellist, years away from the screaming girl in the crowd, but she's just lost her mother and her marriage, and her daughter is on the cusp of teenagehood, which Petra finds completely terrifying. She can't help but be immersed in a little nostalgia.
The first half of the novel is a bit awkward in the transitions between Bill and Petra's stories, and Pearson writes Petra's story so brilliantly that Bill's part pales in comparison. Her portrayal of teenage girls is worthy of Judy Blume (and one character even seems lifted straight from Deenie), her respect for their feelings and intelligence makes these characters so compelling, and she nails it– the evil social dynamics, the insecurity, the desperation for everything the whole world seems to just be withholding. The second half with grown up Petra and Bill is basically a fairy tale and runs down a predictable road, but the characters remain so fresh, and Pearson is such a good writer that the whole book is a joy to read. In particular, her insights about mother/daughter relationships, and her ideas of teenage girlhood as expressed by Petra remembering her own adolescence and now contemplating her daughter's.
I Think I Love You is a novel that manages to balance a little fun with a little subtext, and is well worth a read if you don't mind the song stuck in your brain.