February 28, 2011
We love Ilkley. Thank you, Jackson Brodie.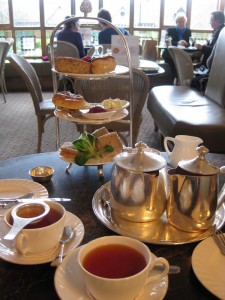 Today Harriet stayed home with her grandparents, and Stuart and I drove to Ilkley in Yorkshire (which is very close to Burley Cross country). I wanted to go to a Bettys Tea Room after reading Starting Early Took My Dog (which should probably receive a commission for our visit). Jackson Brodie certainly did not mislead us: if the Bettys girls ran the government, indeed, there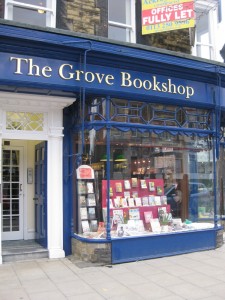 would not have been recent economic disasters, or disasters of any kind. Tea was completely delicious, definitely the best we'd had since Saturday, and I was particularly in love with the woman having her breakfast at the table across from ours' ("Anything else for ye, Vera?" they asked as she was preparing to go, as she tied a kerchief around her hair).
We had fun exploring the town afterwards, visiting the best butcher in Britain, and the Grove Bookshop, a fabulous independent bookshop whose business was booming. We got a steak and kidney pie at the former, and at the bookshop, I got a Penguin 75 tote bag, and Old Filth by Jane Gardam (which I've had out of the library twice, but have always had to return before I've had a chance to read it).