February 16, 2011
Wild libraries I have known: The Whitby Public Library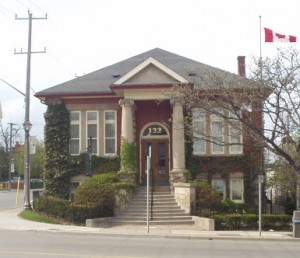 My childhood is lost to me, and so is its library. Which is not the library pictured here, the Whitby Carnegie Library. That one was "the old library", now dental clinic, or something, but it recently came as a shock to me realize that my library is now the old library too. As lost to the physical world as it is to my memory, but first let me tell you about the fragments I have shored against the ruins.
I remember that the Whitby Public Library had very few windows, and it had the vibe of a basement, but this never bothered me, because it was the library. I used to go and check out chapter books, stack them on my bedside table and rotate through the entire stack one chapter after another. Someone once suggested that this was a strange way to approach a pile of books, and I couldn't fathom what they were talking about. I used to dog-ear my pages. I used to read the last page first.
The Whitby Public Library had a cable access show whose theme song was some guy strumming a guitar and singing the lyric, "Strawberries, fresh strawberries. Cream and sugar, you just can't wait!" Or something like that– perhaps I dreamed the whole thing. But I distinctly remember learning to draw a 3-dimensional-seeming chair after viewing a lessons on such things on the library show. I remember that the Chief Librarian was also an author, and he was Ken Roberts, who'd written Pop Bottles and Hiccup Champion of the World.
I hardly remember the library, in spite of its centrality to my early existence (and the centrality I do remember. The library was always a place of reverence). So I was excited to rediscover it via Google, make it truly a Wild library I have known (instead of a wild library I can scarcely recollect), except then I discovered that the library had been torn down. In fact, that it hadn't even been a library at all. When the old library (pictured above) outgrew itself, the Whitby Public Library was moved into a temporary location in a former municipal building where it would live for nearly thirty years.
When a brand new state of the art library was opened in 2005 (and it is impressive. I'd include a photo, except it's a library I've never known), the library of my childhood was reduced to rubble.
Update 2019: I have found photos of the library of my childhood online via the Whitby archives!! You can see them here, here, here, here, and here. And since I wrote this post 8 years ago, I HAVE visited the new Whitby Public Library, and it's wonderful. I am going to be back there next week in conversation with my friend Marissa Stapley and it's going to be fun.