February 6, 2011
I am reading at the Draft Reading Series "Bloggers Live!" event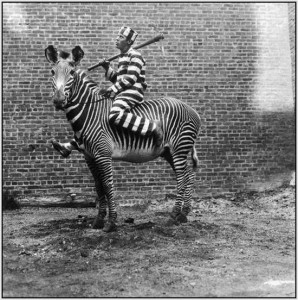 It's one week until I'll be reading as part of the Draft Reading Series' Bloggers Live! event, with my friends Julia Zarankin (of Birds and Words) and Maria Meindl (whose blog is brand new), and Diana Kiesners who writes The Accordian Diaries, which probably means there will be an accordian. Me, I'll be sticking with prose, though anything is possible. In the spirit of whimsy, a convict riding a zebra.
The event is next Sunday, February 13th at 3pm at Merchants of Green Coffee (Queen and Broadview-ish).
Let me know if you're coming, and I'll save you a seat.